Review: Fiddler on the Roof, Playhouse Theatre London
 Insecurity, traditions that bind and the need for change! Bent's Adrian Gillan hails legendary director Trevor Nunn's intimate revival of one of the most successful musicals of all time!
When you enter the Playhouse Theatre in London's West End you are immediately and atmospherically transported to a Jewish "Shtetl" in pre-revolutionary Ukraine/Russia, and drawn into the bitter-sweet tale of patriarch Tevye who seeks stability through tradition, just as his three eldest daughters demand fuller freedom and happiness, and as surrounding antisemitic forces alas all-too-seemingly-cyclically mount!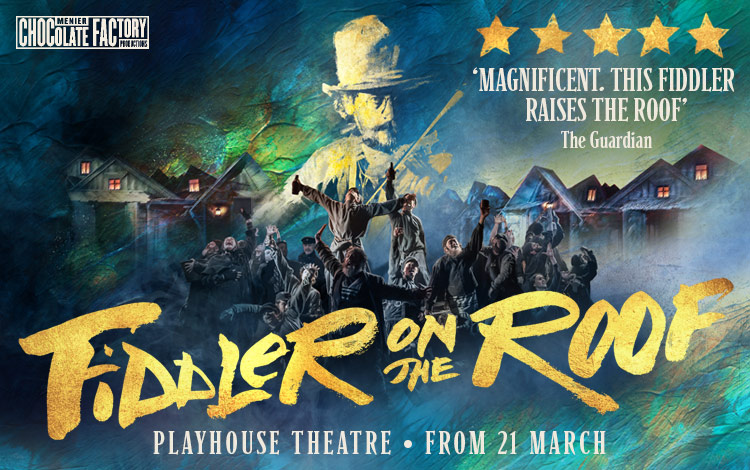 Based on stories by famous 19th/20th Century Jewish writer Sholem Rabinovitz, and adapted into a multi-Tony-Award-winning show in 1964 by Joseph Stein (book), Jerry Bock (music) and Sheldon Harnick (lyrics), Fiddler on the Roof  went on to become one of the most successful musicals ever created, its winning blend of still-hugely-relevant folk-parable-structured plot, wily Jewish humour, catchy numbers ('Tradition', 'Matchmaker, Matchmaker', 'Sunrise, Sunset', 'If I Were a Rich Man' etc) and heart-felt sentiment making it a stalwart favourite amongst professionals and amateurs alike.
The magical intimacy of this latest Menier Chocolate Factory revival is miraculously retained during this transfer to the larger Playhouse space; and classy, incisive direction from theatre legend Trevor Nunn, a fully-committed cast plus world-class design all help ensure such a well-known work is truly rejuvenated, skipping along in well under 3 hours and steering well clear of any dreaded schmaltzy am-dram mires!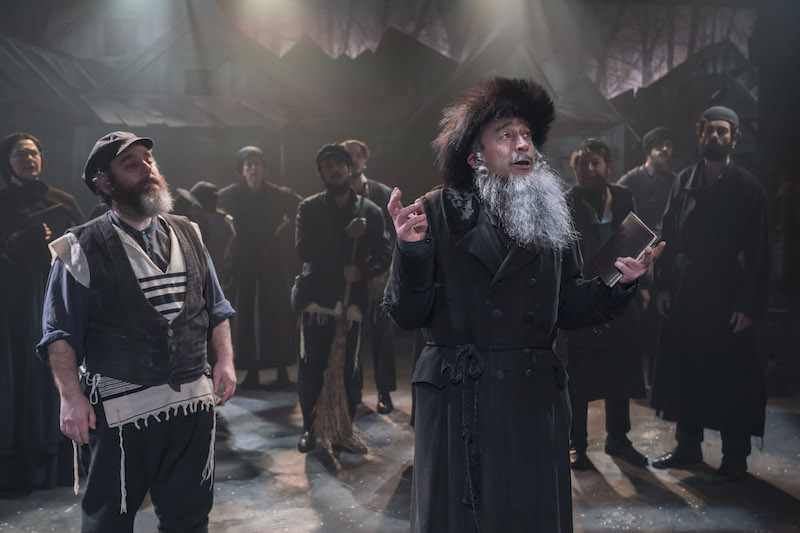 Tevye (Andy Nyman's understudy Robert Maskell wittily incisively nonchalant in the show I saw) and his feisty wife, Golde (multi-award-winning Maria Friedman, brilliant, not least in her touching "Do You Love Me?" duet with Tevye) seek "suitable" husbands for their three eldest daughters; assisted by community matchmaker, Yente (Anita Dobson, milking the smallish role for all its worth). Yet: the girls seek love.
Overcoming her father's resistance, Tevye's eldest daughter Tzeitel (Molly Osborne) marries impoverished childhood sweetheart, the tailor Motel (Joshua Gannon, bravely manning-up throughout his role), snubbing the matchmade advances of wealthy older butcher Lazar Wolf (Dermot Canavan, both bitter and magnanimous in his rejection).
Then middle daughter Hodel (understudy Ellie Mullane admirably filling Harriet Bunton's shoes) flees in search of her exiled fiancé, the tutor-revolutionary Perchik (Stewart Clarke's understudy Ed Wade dazzling with his natural stage presence and exquisite voice), as external realities tangibly impinge.
Finally – parables and fables do love a "three" – youngest daughter Chava (Nicola Brown, beautifully and audaciously yearning) and gentile Fyedka (Matthew Hawksley's handsome understudy Philip Bertioli stepping youthfully sexily up to the plate) have a Christian marriage, outside of the community. This: the hardest coupling of all for uber-traditionalist Tevye to accept, as he is forced by circumstances, and ultimately love, to go on his own personal inner journey, and embrace change.
As antisemitic pressure mounts (Craig Pinder, superb as the conflicted local Constable, himself a victim of wider forces), the settlement eventually fragments, dispersing to the diasporic corners of the earth.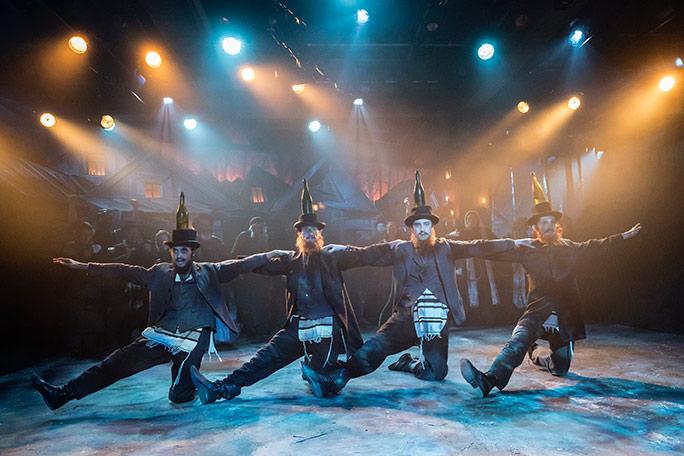 It is not possible to here mention all of the rest of the excellent two-dozen-plus-strong cast – blatantly blessed with impressively resilient understudy cover, and not counting the multiple requisite child-actor swaps – but Fenton Gray does shine as the passive Rabbi of comically few words; and the whole company delivers entertaining high-octane dance numbers throughout, choreographer Matt Cole building on legend Jerome Robbins' original work.
The fine 8-piece band – onstage to one rear raised side throughout, and occasionally woven even closer into action – is headed by charismatic Paul Bogaev at the keyboard, with Darius Luke Thompson as the eponymous fiddler, topping-and-tailing proceedings!
The palpably ambient "chamber musical" immersion-surround quality of the whole production results from stellar work by Robert Jones (design) – Shtetl roofs crowding backwards, as well as forwards to engulf the theatre's gilded boxes, as a path twists and snakes through the stalls – alongside Tim Lutkin (lighting), Gregory Clarke (sound) and Jonathan Lipman (costume).
Nunn breathes new life, vitality and urgency into an old friend, from start to powerful end – when a long procession of sad figures trail onwards through the audience into an unknown future, yet the colourful fiddler still sprightly brings up the rear. Life is precarious, for everyone – so keep smiling, loving, moving.
Fiddler on the Roof runs at the Playhouse Theatre, London, until 2 Nov 2019.
– ends –