Review: Orpheus Descending, Menier Chocolate Factory, London
Repressed passions erupt and are crushed! Bent's Adrian Gillan hails a blistering revival of gay great Tennessee Williams' Orpheus Descending, at the Menier Chocolate Factory in London!
With a lengthy genesis spanning his most fertile period, rarely-revived Orpheus Descending is classic Tennessee Williams fare – exploring how socially unacceptable passions inevitably and inexorably burst forth only to be tragically violently eliminated by the society that so seeks to supress them. Despite not a single gay character on stage, as an expression of the dramatist's very soul: gay… or… what!?!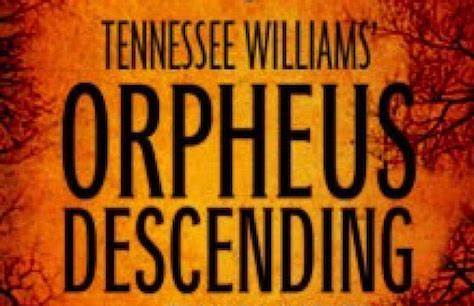 Williams' genius, and personal tragic irony, in this and his other great plays – unsurprisingly given the climate in 1940s/50s America – is to sublimate and morph his own gay situation. His wider target is oft a rabidly macho, male-dominated, racist Deep Southern society out to subjugate women, non-whites and frankly anyone bold enough to be true to themselves and step out-of-line. Moreover, with Williams' trademark poetry and symbolic imagery (not least wild animals, from snakes to birds) woven throughout, the ghosts of Chekhov, Ibsen and Strindberg abound! Titular Greek myths too – a charismatic musician descending into a hell to try to redeem a woman only to be destroyed by those immune to his charms!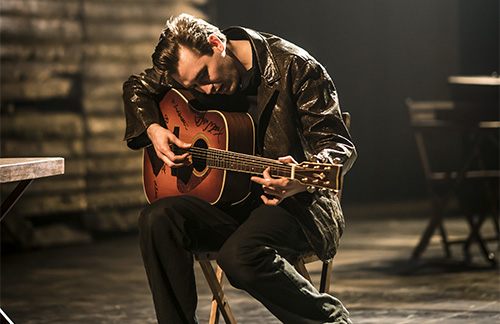 The work started life in 1940 as Battle of Angels; premiering as Orpheus Descending on Broadway in 1957; then a film adaptation, The Fugitive Kind (1959) starring Marlon Brando – none too successful! Recent West End revivals have starred Vanessa Redgrave (1989) and Helen Mirren (2000) in the lead female role. This current offering is a co-pro between the Menier Chocolate Factory and Theatr Clwyd.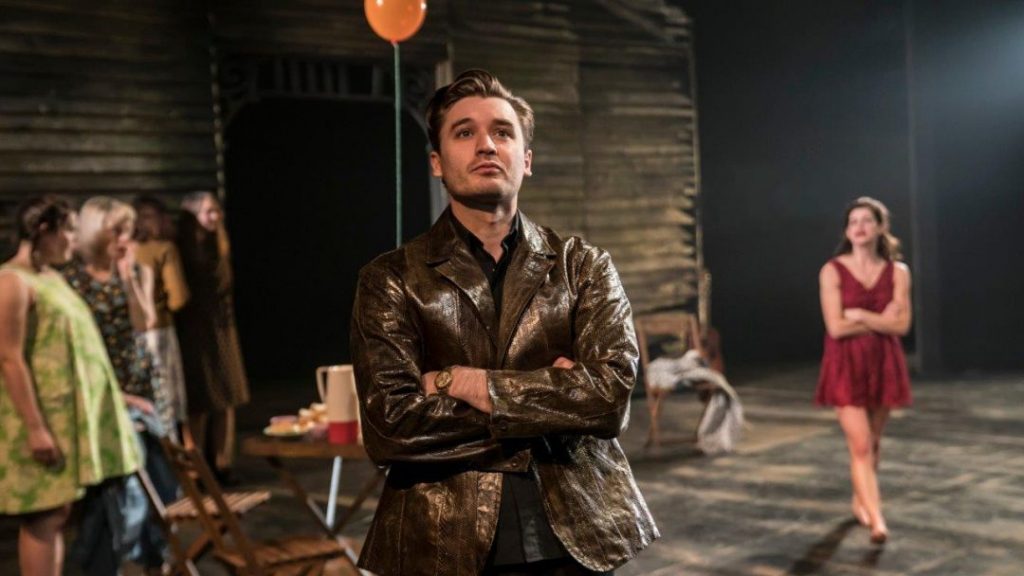 Lady is a middle-aged women trapped in a loveless marriage to dying chauvinist racist Jabe, who she subsequently finds out is partly responsible for the death of her immigrant father. She employs younger wild-yet-basically-honest vagrant musician Val to help out in the store her ill husband can no longer run, falling for his charms. He soon moves in, living in a rear room, and Lady – who we learn has already aborted a previous child from another affair – falls pregnant again. The sheriff, jealous of Val's impact on local women, including his own wife, tries to force Val out of town. Yet all too late to stall a tragic fate!
Hattie Morahan and Seth Numrich are simply stunning as the lead couple: desperate, neurotic and vulnerable Lady and charming, soulful and sexy Val – the power-play between the two ebbing and flowing with nuanced chemistry, as tension builds. Mark Meadows plays Lady's rabidly chauvinist and bigoted husband Jabe with as much relish as the menacingly imposing Ian Porter displays as Sheriff.
Carol Royle adds welcome touches of humour as Sheriff's religiously visionary wife, Vee; as do Catrin Aaron, Jenny Livsey and Laura Jane Matthewson, as maliciously gossiping small-towners Beulah, Eva and Dolly respectively. The wonderful Jemima Rooper lights up the stage every time she appears as courageous yet pitifully unstable outsider-prostitute, Carol – a kind of soulmate to Val. Ifan Meredith is strangely touching as Carol's brother David, Lady's former lover; the same actor also well-nigh unrecognisably doubling-up to play Dog, Dolly's redneck husband, oft seen alongside hefty Michael Geary as Pee Wee, Beulah's husband – the pair, a kind of impromptu sheriff's posse.
Carrie Quinlan makes a morally upright yet blazingly chilling Nurse Porter, triggering the play's final vicious denouement; and Valentine Hanson completes the cast in perhaps the most enigmatic character of all: eerily ubiquitous Uncle Pleasant – the feared, abused yet stoically strong mixed native-black character who animalistically, oft-wordlessly senses and observes events unfold, recovering and passing on Val's talismanic snakeskin jacket to Carol at the end. Tragic. Yet the wild, free spirit lives on.
Theatr Clwyd's Artistic Director Tamara Harvey directs with her usual élan, well-pitching changes of pace and tone, perfectly melding drama with humour. She is aided by Jonathan Fensom's open, free-flowing design – the gloriously flexible Menier Chocolate Factory here arranged with its audience on three sides. Tim Mascall (lights) and Gregory Clarke (sound) likewise delight. An unsettling, edgy treat.
Tennessee Williams (1911 – 1983)
Generally considered to have been one of the three giants of 20th Century American drama, alongside fellow playwrights Eugene O'Neill and Arthur Miller, Tennessee Williams wrote perhaps his three best-known plays within a decade, from mid-1940s to mid-1950s – The Glass Menagerie (1944), A Streetcar Named Desire (1947) and Cat on a Hot Tin Roof (1955). Many of his works were made into films.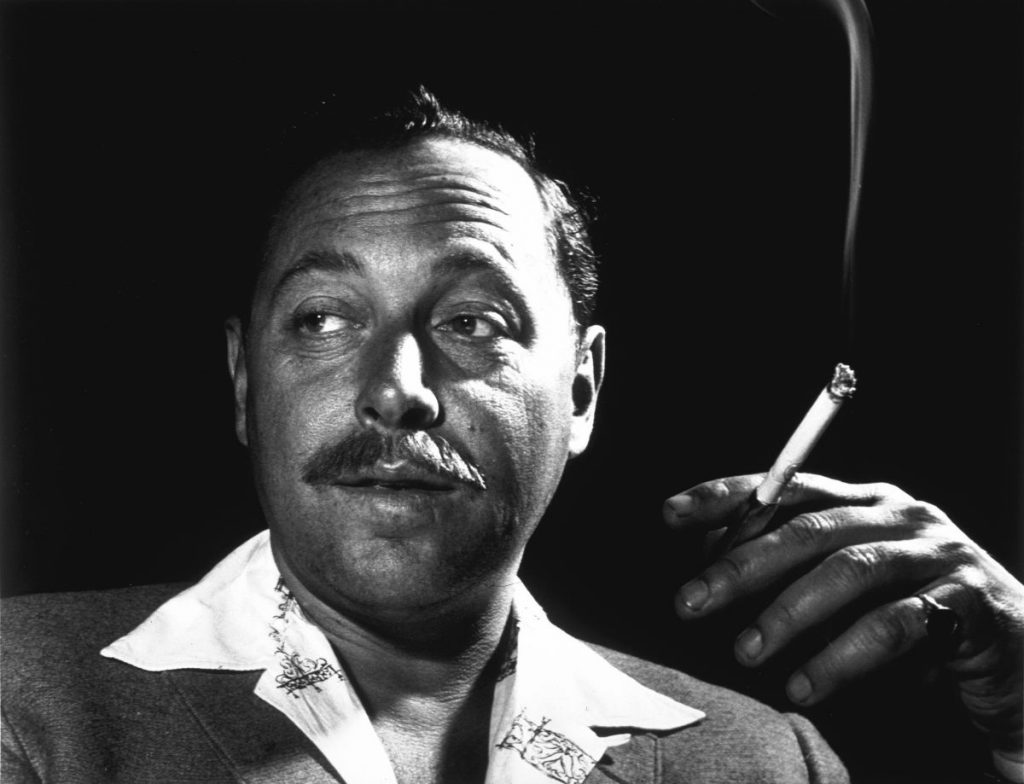 He had a violent, drunken travelling salesman for a father and a difficult relationship with his mother; but he adored and financially supported his institutionalised schizophrenic and lobotomised sister. He had a series of gay affairs, oft with significantly younger men, many drink- or drug-dependent – as Williams himself increasingly became, suffering from anxiety and depression. Some were attracted by his fame and burgeoning wealth. Occasional actor Frank Merlo was the enduring, 14-year, romantic relationship of his life, the pair living in both New York and Key West during his most artistically productive years.
Williams choked to death on a plastic bottle cap in his Manhattan hotel suit in 1983 and was buried in St. Louis, Missouri, despite the express request, stated in his will, that his body be disposed of at sea.
Orpheus Descending runs at the Menier Chocolate Factory in London, until 6 July 2019. For more info and to book tickets, visit www.menierchocolatefactory.com
– ends –