Review: Man of La Mancha, London Coliseum
by Adrian Gillan for www.bent.com 
Clever charming hymn to idealism, illusion 'n imagination! Bent's Adrian Gillan hails "impossible dream" musical Man of La Mancha's first West End revival since its premiere here 50 years ago!
First off: this is not a "musical version of Don Quixote"! Rather, Dale Wasserman's ambitious work is, in fact, based on an earlier TV play he wrote – itself merely "broadly inspired" by Cervantes' famous 17th Century novel – which he then turned into a book, which Joe Darion (lyrics) and Mitch Leigh (music) then made into a musical.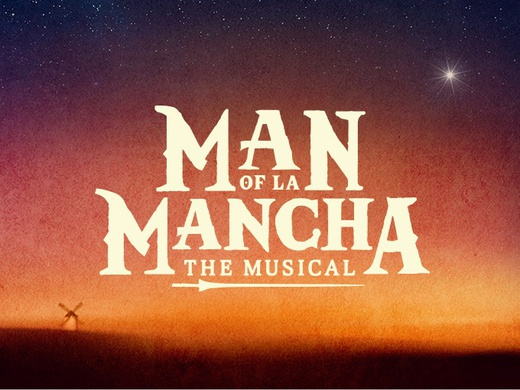 Man of La Mancha hoovered up Tonies when it opened on Broadway in the mid-1960s, wowing audiences with its hippy-dippy-better-world, yet fundamentally cosy-old-school-manners, ethos; all set in an experimental play-within-a-play format; plus a big iconic song that singers once queued up to cover.
The show's core massage – that the world would be a better place if we all dared to dream about how it could be, rather than merely seeing, and settling for, how it unfortunately is – could now seem somewhat antiquated, flower-power 60s fare, albeit with a tad reactionary, backward-looking, chivalrous slant that might raise, to say the very least, the odd feminist eyebrow!
Yet, what makes the work interesting, both then and still now, is how it uses a "framing device", whereby a delusory-yet-idealistic Cervantes character recounts his own knightly tale, to help inspire and convert a brutal and degenerate surrounding world to his nobler vision. And it's hard to hold out too long against the show's infectious heartfelt sincerity; plus its one, or two, showstopper tunes!
His singing voice soon warming up and holding out well as the piece unfolds, Cheers/Frasier actor Kelsey Grammer is well-cast in the core Cervantes/Quixote role, evoking all its requisite vulnerability, resilience, dignity, naivety, bravery and nobility, going on a journey that sees this heroic "everyman" character's increasing self-doubt eventually triumphantly overcome by the optimism he has thankfully succeeded in igniting in others around him en route – his final courageous exit, into a threatening unknown, ultimately movingly made on behalf of us all.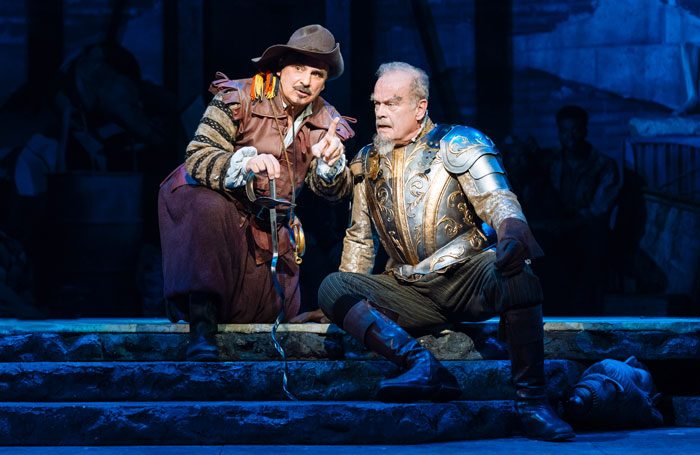 The only true opera voice in the show – and what a voice – Danielle de Niese shines not merely vocally but also via some of the best acting from an opera singer you are ever likely to see. The gang-rape scene is especially unsettling. Her sexy, gutsy Aldonza/Dulcinea bristles with passion, anger, regret and emerging Quixote-induced self-belief which she, in turn, mercifully rekindles in the doubting, fading hero.
Peter Polycarpou makes a fine Sancho Panza, Quixote's loyal, doting and ever-exasperated sidekick. Nicholas Lyndhurst (best-known as Rodney in Only Fools & Horses but a veteran actor of considerable versatility and power) is menacing, funny and moving as The Governor / Innkeeper – initially putting Quixote in front of his kangaroo court, before being converted to, and endorsing, his Quixotic dream.
A large, and largely-onstage-throughout, supporting cast swells the ranks of Cervantes' fellow prisoners, who themselves portray other assorted supporting characters in the play-within-a-play.
Director Lonny Price manages to steer the show away from a potential idealistic cheese-trough. And the decision to set the framing action in a more contemporary, albeit still generalised, period adds urgency.
James Noone's darkly atmospheric yet spartan setting gives a blank canvas on which characters can make-believe, their dreaming reality-checked by occasional ominous Big-Brother-usage of the massive moveable stairway looming over proceedings. Rick Fisher's brooding lighting also shines, not least in the quite literally dazzling "Knight of the Mirrors" number.
Underpinning everything, the world-class 30-piece English National Opera Orchestra jettisons its traditional string section in favour of guitars to deliver a wonderfully rhythmic and percussive Hispanic flavour under the energetic baton of David White.
Man of La Mancha runs at the London Coliseum until 8 June 2019./em>
– ends –