Review: Antony & Cleopatra, Olivier Theatre (National Theatre)
by Adrian Gillan for Bent Gay shop & Magazine
When lovers seek legend! All air and fire and full of immortal longings, Bent's stone-faced, flint-hearted critic, Adrian Gillan, melts into the theatrical Tiber during the NT's Antony & Cleopatra!
One of Shakespeare's greatest mature works, containing some of his finest language, it's hard to pin multi-layered Antony & Cleopatra down – historical, Roman, tragic, comic, romantic… problematic? Many argue its two feisty lovers in fact achieve the ultimate happy ending, in famed deaths that ensure a much-craved eternity – any tragedy being rather more for those drowned in their wake, or left behind.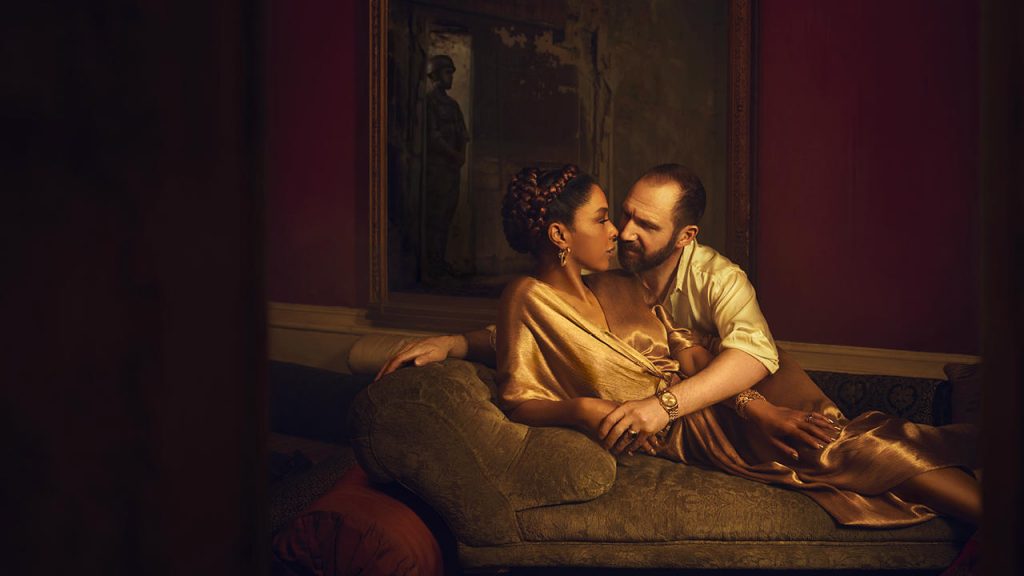 An overarching theme of duality and ambiguity pervades throughout – Rome v. Egypt; masculine v. feminine; political v. sexual power; private devotion v. public duty; loyalty v. betrayal; selfless love v. unbridled ego and an obsessive craving for legacy and legend.
"Eternity was in our lips and eyes": Cleopatra's thought seems to be the watchword throughout director Simon Godwin's sumptuous yet still simply-told production at the National Theatre, the fated destiny heralded from the outset, as the final lines of the play are also pronounced at the very start.
The Olivier stage, and its drum revolve, is used to its fullest, sweeping extent allowing the epic story to flow inexorably forwards; and creating the requisite ongoing literal and metaphorical contrast between a cold, columned, corporate, calculating Rome and a curvy, fluid, exotic – yet no less shrewd – Egypt.
Plaudits for Hildegard Bechtler's contemporary-yet-timeless sets – not least the Egyptian water pool – matched by Evie Gurney's costumes; and – in so well evoking the numerous Rome-Egypt transitions – for Tim Lutkin's lighting, Christopher Shutt's sound and Michael Bruce's music. Take a bow Jeanette Nelson on company voice work, the cast delivering every precious word with remarkable crystal clarity!
Oscar-winner Ralph Fiennes' Antony is hardy, infatuated, knowingly-aging, charming and fundamentally noble and decent – as at ease in the intimate love moments as with the scenes of revelry and machismo – guilt-ridden by his own eventual failings. Sophie Okonedo's Cleopatra is wonderfully feisty and wily, pitching the childish histrionics and comic insecurities perfectly. If she is a femme fatale, it is her survival instinct and quest for legend that ultimately drives her, alongside any undoubted love for Antony.
Tim McMullan brings out the earthy side of Enobarbus, as well as his loyalty to Antony and shame at finally deserting him. Tunji Kasim is a charismatic yet chillingly ruthless Caesar, with Ben Wiggins shining as his Proculeius. Nicholas Le Prevost plays a suitably hapless Lepidus; and Sargon Yelda a formidable Pompey, with Gerald Gyimah effective as his agitant follower, Menas. Fisayo Akinade is both funny and touching as Antony's loyal and ultimately suicidal attendant, Eros. But the whole cast excels, including one very well-behaved real-life sssssssssssssssssssssssssnake!
Antony & Cleopatra runs at the Olivier Theatre (National Theatre) until 19 Jan 2019.
– ends –