Confession: Straight Mate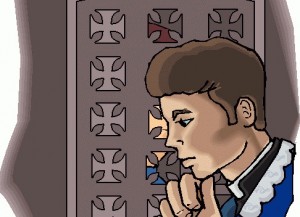 I have a mate who I thought was straight and who didn't know I was gay. He's 19 and I'm 18 and we've been mates for three years as we're on the same squash team at the local sports centre.
He has a fantastic body, which he likes to show off, and I couldn't help mentioning that I thought gay boys would go mad for him looking the way he did. He smiled and jokingly waggled his hips in appreciation. I didn't let on that I was wetting myself over him but somehow, when he was relaxed and at home, the talk got around to what we thought gay boys did to each other.
We had a pretty good idea though no experience to base it on but as we talked I saw he was getting aroused in his jeans so, I put my hand on his crotch and felt his dick getting harder. As he didn't throw a wobbly I started massaging it and he put his hand down my shorts and we tentatively started kissing. This was not what I'd expected from him and was such a turn up for the books. We were both as hard as nails in seconds and our breathing meant we were nearing some kind of climax.
It all seemed so natural and my friend was into it in a way that I could only have dreamed of so, when he pulled off his clothes, turned over and pleaded with me to do what we'd been discussing… I wasn't going to miss such an opportunity.
Wow, it was brilliant but the sad thing for my friend is… he can never pass himself off as straight anymore… and I have to confess…. I'd been praying it would happen for ages.
Thank you GOD.
Colin, Pembrokeshire.
If you have a confession you'd like to share, send it to editor@bent.com