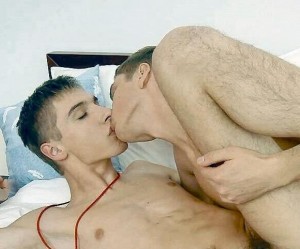 As I wasn't going to see my parents over the summer period I agreed to meet them in my local pub for pre-holiday drinks. I arrived early and noticed two guys who clocked me as I entered the bar. This isn't a gay bar or anything, just a local pub.
I saw the guys looking, obviously talking about me and as I stood at the bar waiting to be served, one sidled up and asked if my name was Tony. I said it was and he mentioned the name of a friend of mine, who he said told everyone: 'I was a fantastic shag'.
He was smiling as he said it and I laughed along, still waiting for service. He said quite brazenly that he and his mate were leaving and did I want to go back for a quickie. I looked at my watch, and as I was a good half hour early for my parents, asked if they lived nearby.
"Just up the road."
They were both quite big guys and fairly raunchy looking so I said "Just a quickie then."
I never did get back for that drink and I'm sorry mum and dad… but a shags a shag and a bloody great one it was too… there was nothing quick about it.
Tony, Yorkshire.
If you have a confession you'd like to share, please send it to editor@bent.com