Bent Confession – Wet shorts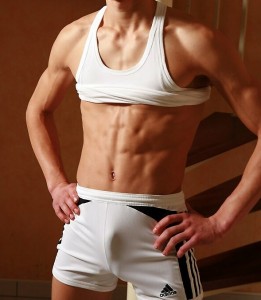 It was pissing down and I was stood under a tree in the woods waiting for the torrential downpour to lighten up a bit. I'd had a rotten evening cruising this bit of the wood and the rain was making me feel even worse when I saw a lad jogging towards me. He was wearing just a white vest and tight white shorts, both of which were now almost transparent.
As he got nearer I could see he appeared to love the weather as it gave him chance to show off what he had… and he had a great deal stuffed in those little see-thru shorts. The sodden t-shirt really did show off his nice pecs and tight abs. Hell, he was really turning me on as he went up and past. I could have cum in my own jeans without any help at all Although I realized I had my hand in my pocket and had been absent mindedly massaging my cock from the moment I saw him.
He made a u-turn and came back to join me under the tree. I nodded. He nodded. I just gaped at his superb, hardening cock trapped inside those shorts. I asked if he needed a hand. He nodded and as my hand reached across to rub the front of his crotch, his hand was searching for my zip. So, under a tree, in a gloomy storm, I wanked off the sweetest looking guy, with a succulent cock I'd love to have devoured but whose owner made me cum in a furious hand job that left we raw and sore for three days.
Brian, Wakefield.    If you have a confession you'd like to share, send it to editor@bent.com