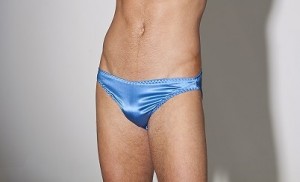 I've read a few confessions on here about guys and their fetishes and I'd like to add mine to that list.
 Recently I've started wearing silky, slinky panties when I know I'm going to have a shag. I know it's silly but when I'm wearing these feminine knickers all I want is to be taken roughly and stuffed hard.
A pair of blue shiny satin knickers are my favourite and I feel all horny, sexy and desirable in them. I know it's mainly for my benefit… as most guys who shag me don't even notice… those that do don't care and only one guy has found them a real turn on. Mind you, they really did affect him (and me) because my arse was really red and sore the following day after that bugger had been at me all night. However, I like to wear them under my suit to work and I find it such a turn on to have this little secret. Oddly enough, if I wear my y-fronts I get all dominant and will shag just about anything that offers itself but in my knickers I don't seem to feel so macho… anyone else share my passion?
Cam, Blackpool
Do you have a confession you'd like to share, if so send it to editor@bent.com