Bent Fiction – Internet Sex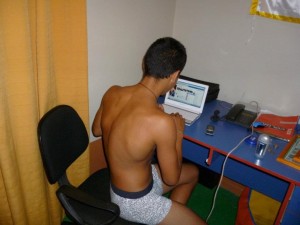 By Les Lea
       Adam had heard all about "Internet sex". How easy it was to get in touch with some horny guy on the net and within minutes, meeting up and having raunchy sex with him. No nonsense, no-strings fun, that's what he was after. Armed with his e-mail address and a few newsgroups he'd been told about, he soon put his advert out and waited for what he hoped would be incredible cock-stiffening replies. His advert read, "Boyish – 24y.o. – 5'9" – 30"w – 38"c – short brown hair and green eyes – looking for no-strings fun with guys who are active and full of ideas" and, when he logged on the next day, he was happy to see he had three replies.
Two were from addresses too far away that simply said that they were "…up for it", the lack of any sex chat or even ideas left him a little deflated about the type of person who was on the net. The third message instantly re-inflated him, well his knob anyway. It was from a 28 year old guy in Scotland who told him exactly what he was going to do with him and had Adam wanking furiously over the keyboard at the thought of being shagged senseless by some pervy, kilted Braveheart. He wondered about making the trip to see his new Scottish chum but sent an equally horny message back and attached one of his recently scanned photographs so young Braveheart could see exactly what he looked like. The following day he got another message. Not from Scotland, but from Rob, who was far more local, that said, "… now I'm unemployed I'm up for some daytime fun as I've got a load of time on my hands, loads of ideas" and he added suggestively, " and a load of spunk in my balls." Adam's cock immediately sprung to attention as he thought about what Rob would be like and how he couldn't wait to help him unburden some of that spunk. He swiftly sent off a brief message, his phone number and attached a photo of himself lying on a bed in just his white cotton briefs.
He didn't have to wait long for a reply. Rob raved about the photo and suggested that Adam get himself to his house "pronto" so that he could "shag that tight arse". A yellow paper clip icon in the right hand corner also told Adam that there was something else attached to the message, which he quickly opened. Adam was most upset, it was a photo of Rob and he wasn't a bit like he'd imagined. A huge, smiling bear of a man posed in front of a steel door dressed in a pair of jeans with leather straps around each bicep. His naked belly was covered in a matt of hair, as was his face… although, through the greying beard, he noticed a definite twinkle in his eyes. Adam was hugely disappointed as he was hoping for… well he wasn't sure what but Rob wasn't fitting the bill. However, at that moment the phone rang… it was Rob.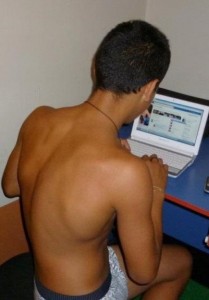 Despite the impression his advert gave that he was experienced, Adam's sexual encounters were few and far between. He'd lost his virginity at school when the PE teacher, Mr Roberts, had taken advantage of him over a pile of rubber mats in the gym storeroom but since then… very little had happened. He'd had some furtive fumblings over the years and had even found himself with the occasional cock down his throat but he'd not had any "real" sex since that moment in the school gym.
Rob proved to be a real charmer and had Adam laughing and talking about all sorts of things. Clubs, pubs, music, computers and even sport… a subject that Adam knew very little about. Suddenly he'd found someone who listened to him and encouraged him in his opinions. They talked for over an hour and by the end it was Adam who was insisting that they meet up the following day for a "bit of a session."
Robert Arthur McVay was forty-three years old and had, four weeks previously, been made redundant. He'd got quite a decent severance pay but at the same time as he got his P45, his lover of the past five years, Tommy had left him for a much younger man. Rob was devastated but had found a new interest in computers to take his mind off his terrible feeling of rejection. He quickly got the hang of being 'online' and had found the Internet and its various web sites a superb distraction. He'd downloaded enough porn to last a lifetime and was in touch with other users all over the world… he even had a digital camera and microphone on top of his screen so he could let other worldwide net users know what he looked and sounded like. He loved seeing other guys on his screen that had the same facilities and had great fun watching what folk got up to. He had a passion for images of leather guys and these were the sites he searched every day and it was only through an accident that he'd logged on to the gay personals and came across Adam's advert. Because he thought the advertiser sounded like Tommy, and lived so near, he replied and was thrilled with the photo he'd got back. He wasn't ashamed to say that the young guy, lying on a bed in just a pair of white underpants, had him beating off and cumming in a stream all over the screen. He didn't look like Tommy… but wondered if the lad really was interested in just a bit of no-strings fun. It was time for him to get back into the saddle and start to meet guys again. He also thought he could cope with rejection… over the Internet. After talking to him he was delighted at the young guy's response and was looking forward to coming up with some ideas to keep him happy and satisfied.
Rob watched with interest as Adam slowly pulled off his jumper to reveal a hairless but nicely defined body. He looked shyly at the hairy guy, as he was encouraged to drop his jeans. He kicked off his trainers, unbuckled his belt and followed Rob's eyes as his jeans fell around his ankles. Rob watched with a huge smile on his face as his guest faced him with an interesting bulge sticking out the front of his white, 2(x)ist briefs. Rob pulled Adam towards him and hugged him closely rubbing himself against the small but warm frame. He held the semi-naked body tightly for what seemed ages, which wasn't what Adam, expected. He kissed and nuzzled him and turned him around so he could admire his back. All the time Rob was making comments of approval, obviously enjoying being so close to Adam and was gently grinding his hips into the young guys backside. Adam felt relaxed and happy and found the constant compliments hard to resist. Rob reached over and tapped something onto the keyboard and the screen was filled with a superbly pornographic photo of two guys shagging.
"Is that what you want?" Rob whispered into his ear.
"Yes please," Adam shyly responded.
*******************