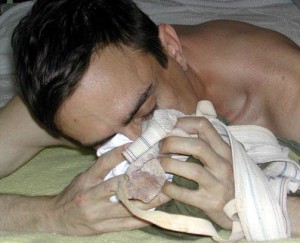 I've just joined a new 5-a-side team and got caught by two of the guys after practice as I nicked a couple of their jockstraps. All the others had gone so I owned up, hoping they'd see it as just a newbie prank but they wanted to know if I was a perv. They didn't believe me when I said it was just a laugh.
My heart was beating really hard as either guy was big enough to inflict serious damage and I worried that the two together would beat the shit out of me. However, the way they spoke I thought there might be more to their question so admitted I had a bit of a fetish for jocks and footballers. They looked at each other, smiled and then said they had as well.
In that empty locker room sex just happened and at one point I almost threw up as the biggest of my team mates dragged his rather impressive dick from behind his jock and tried to ram the damn thing down my throat. I coughed and spluttered but he was a determined sod and, as he had a tight grip on my balls, I had little option but to take it all. We were all naked apart from our team shirts and soon the other lad greased up his cock and forcefully slid it into my guts. With a dick down my throat and one up my bum panic was building as they rode me to their climax. Meanwhile, the hand holding onto my bollocks rubbed me just enough to bring me spurting into my jock.
That was just the beginning of several initiations that I had to endure to become part of the team.
Ryan, Birmingham.
If you have a confession you'd like to share, send it to editor@bent.com