Confession – First Time Bottom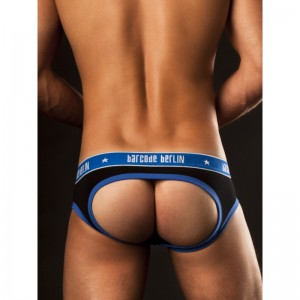 I'm 23 addicted to sex. I love the feeling of a guy and his muskiness. Anything from an 18 year old skinny twink to an older, fit guy. Hot, sweaty shagging is what I live for.
Anyway, one Saturday last summer I was bored, so I decided to see what was happening on Grindr. I got chatting to this 29 year old guy who was only a 5 minute walk away. His pics looked good. Athletic, muscly with a fetish for jockstraps. Long story short, we agreed to meet. I put my jock on for him and went to his.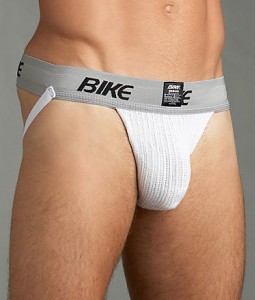 I got into his flat and he was there waiting. Top off, showing nice defined pecs with a light covering of blonde hairs. I could see the bulge of his stiff cock inside the tight skinny jeans he had on, only just holding his magnificent thighs. This sight made my semi instantly turn into an 8 inch boner. In 10 seconds my t-shirt was off and we were on the bed snogging.
Soon enough we were down to our underwear: me in my white jock, him in a pair of backless briefs, showing off his sexy round butt. His fingers were making their way to my hole. I never bottom, so this was a first but I was going along with it for this stud. Soon, 3 fingers were in. The feeling was amazing. The next thing I knew, I was on my back, legs in the air with his thick, throbbing dick pushing at my lubed up hole. It was a mix of pleasure and pain, but the guy knew what he was doing and was soon inside me. He was pumping, slowly at first then faster and faster. Before long he was stuffing me good and hard and I was loving it.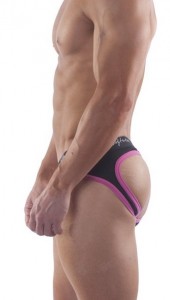 Next, we changed position; him on his back and me riding him. My hole was easily taking his meat. I was riding him like it was my job. The feeling was amazing. He then let out a massive groan, arched his back and I could feel his dick pulsating and squirting his spunk up my hole. This soon made me cum. I was still in my jock and this was the first time I had cum without stroking my dick!
This is definitely the hottest session I've ever done. This guy and I still meet and I always love to service his dick like this!
Ewen, Glasgow
If you have a confession you'd like to share, send it to: editor@bent.com
For backless briefs check out our Barcode range.