Confession – My First Business Trip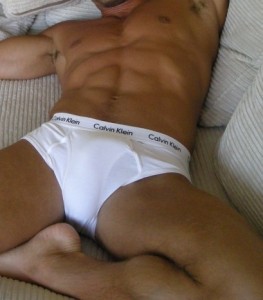 Last summer I had to go to a two day conference in London. At 22 I was going on my first business trip. I was meeting up with a guy from my work's Edinburgh office and we would be attending together and sharing a hotel room. I was pissed at this because I thought I might get a chance to check out some of London's gay clubs and saunas, now I'd have to spend most of my time with him, and even if I did get out I couldn't bring guys back.
Anyway, my train to London passed through Edinburgh and the guy and I soon met up. We got chatting and he was pretty cool. He told me he was married with twins and that he was 46. He looked pretty good. I could tell he was well toned under his suit and he had a young face and thick, dark hair. By the time we reached London, I had a raging hard-on.
We checked into our hotel, and the room was a twin (obviously, work arranged it!) with two king sized beds in it. Since we didn't have to be at our work conference until 11 the next morning, we decided to chill out for a bit, get some dinner and take it from there. I went for a shower, and when I came out wearing nothing but a towel he was getting ready to jump in after me. He had taken his shirt and tie off and I admired his washboard abs, strong pecs with a light covering of black hair. I'd always liked the look at a guy's ass in suit trousers, and this guy's ass was no exception! It was firm and peachy and I wanted to bend him over and lick it out. My cock instantly stiffened. I didn't think he saw me staring because he was quickly in the bathroom.
I got dressed and when he was ready we went down for some dinner. He suggested we hit the hotel bar and we got steadily drunk as the night went on. When closing time came we went back to the room to sleep. It was a hot summer night and we stripped off down to our underwear. I was wearing my light blue CK briefs. I always buy my underwear a size smaller than I am. I like a slightly tighter feeling and a snug fit to show off my cock, balls and ass. I'm pretty active, I was on the rowing team at Uni and I'm in the gym every day and swim most days, so I'm pretty pleased with my toned, tight body. However, my proudest asset is definitely my ass. It's firm, pert, hairless and a good handful to grab. In a word, shagable.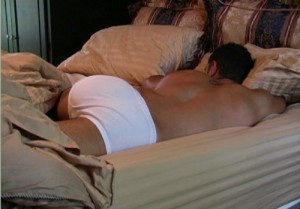 I've been told that my hole is good and tight, but I guess that's a matter of opinion! My roomie was in white CK tighty-whities, with a nice looking bulge, and even nicer ass. Good and firm. We climbed into our beds without a word and went to sleep.
It seemed I had just drifted off, thinking of his massive bulge in his white briefs. I woke up. There was a damp patch inside my underwear. I put my hand down there and discovered I had had my first wet dream since I was about 15! I couldn't be arsed getting up to get a new pair of pants so just stayed there. I felt wide awake, and couldn't get the Adonis next to me out of my head. I could see him lying there. He had kicked the covers off (it was a hot night) and was lying there on his back. I could see his hard chest, stiff nipples and its light covering of hair, whilst his washboard abs had a tiny trail of hair going down towards that huge bulge. I just stared at it for what seemed like ages. I then noticed his hand squeezing his bulge, squeezing the outline of the stiff cock inside. He was awake and horny.
"I heard you moaning in your sleep, you ok?" he said.
I was mortified. Had he realised what had happened?
"I'm good" I said, in what seemed like an unusually high pitched voice.
"I'm dying for a piss" he said.
He got out of bed to the bathroom. I watched the bubble butt inside those white briefs. While he was gone, I took deep breaths to calm down. He seemed attentive all night, but he was married with kids. Forget about it, it's not going to happen!
I heard the toilet flushing and him coming out. The outline of his cock was still visible. He just stood at the end of my bed and he saw the unmistakable wet patch on my pants.
"So that's what you were moaning about", he said with a grin on his face.
I couldn't say anything, and before I knew it my cock was rock hard again. I could see his was also straining to get out of his trunks.
Before I knew it, he climbed onto my bed and just lay there beside me. We said nothing. His dick was pressing into my thigh.
"I thought you were married?" I asked.
"I'm bi and what she doesn't know won't hurt her" he replied with a wink.
Ewen, Glasgow. If you have a confession or story you'd like to share, send it to editor@bent.com