Almost Naked – Andrew Christian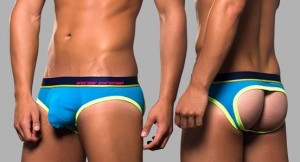 With the Twittersphere going ape about the latest Andrew Christian designs, perhaps you might need to think ahead for buying that personal, something special for Christmas.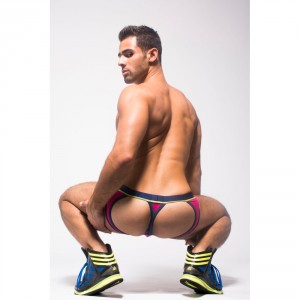 With a wide range to choose from and new designs hitting the streets monthly, Andrew Christian is one of the most popular brands in the world for underwear/sportswear and the like. His underwear is available in many styles including; low cut, super-low-cut, and boxer briefs. Each style is intricately designed using specialized dye treatments, printed graphics, and innovative materials such as bamboo fibre, sports mesh, and patented, moisture-wicking cotton blends. They also feature waist slimming elastic its designs and "FlashLift" Butt-Lifting Technology.
The latest trend is – the reveal to be seen – The Almost Naked Jock Thong.
Just who you want to see what you've got is up to you but there is no getting away from the fact that sexy, trendy and awesome are just three words that describe the nature of Mr Christian's well-conceived and original pants… don't miss out… order today… we'd hate for you to miss out.