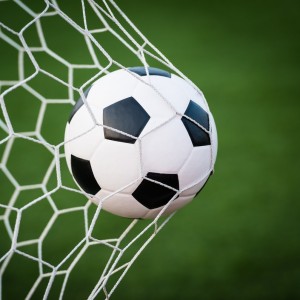 Earlier, on this particular Friday, I had managed to get myself a temporary job and to celebrate the fact that now I might actually be earning some money I was determined to have an exceptional weekend and be ready to awake Monday morning filled up with goodwill (or good Harry) and anxious to get back to the daily grind, which being unemployed for so long, I'd missed.
Friday night I had this really good looking guy in tow. He was 26, said he was an actor and after a pleasant evening drinking, dancing and with a bit of snogging thrown in, I got him home only to find he was a total drag in bed. Not that he'd frocked up in sequins or diamante or anything even slightly exciting, no, he was annoyingly rubbish when it got down to the main bout and after about half an hour simply he fell asleep on me. Before you start… no it wasn't my fault… well I don't think so anyway.
Saturday night came and went in an alcoholic daze and I'm glad nobody came back that night, as I would have been pretty useless myself. I woke up Sunday morning promising myself never again and cursing the demon drink. I decided there and then to take it easy; the entire male population would not disappear overnight so I would give the Sunday night visit to the club a miss. However, there is a gay pub near where I live that I hadn't been in for ages. I remembered it as a bit of a rundown zoo and so preferred the trendy ones in town. Still, I couldn't be arsed getting myself changed for a trip to town so I thought, just to get out of the house for a couple of hours,  a pint in this place would be OK.
There were very few people in when I arrived so I bought a drink and happily went and sat in a corner on my own. I hadn't been sitting long when this guy, about twenty-two, came and sat at my table and just started chatting. He wasn't memorable to look at, what mum would have called "a nice boy", which meant there was nothing else better to say. We talked a bit and I found him quite amusing so when the pub closed I half-heartedly asked him back. I was surprised when he accepted.
When we got back to my flat he refused my usual offer of a cup of tea and immediately started to undress. He was out of his clothes in seconds and his white y-fronts bulged with great promise. Suddenly, he wasn't a "nice boy" anymore but a horny little sod who, without his cumbersome clothes, was a slim but muscular shagmeister. Not to be outdone, I started to undress: Here I have to admit to enjoying a slight fetish and that is wearing sports kits, especially footie gear.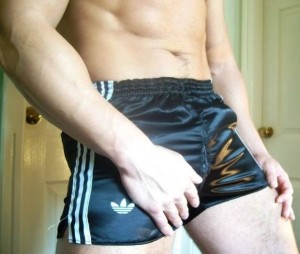 I was still gazing at his forceful bulge when he helpfully pulled down my jeans and, seeing me stood there in a pair of black shiny football shorts, commented on how sexy he thought they looked. I told him what a thrill it gave me to dress up in my favourite team's strip. He nodded, so I suggested he tried on one of my other strips. He readily agreed. I pulled on one of my foreign team shirts and my new found friend whipped off his y-fronts and tried to cram his beautiful, bouncing cock into an extremely tight fitting pair of white shiny shorts. As he pulled on the shirt I had to say he looked bloody incredible.
My football kits are all old ones from the 70's and 80's that I'd managed to buy off Ebay. I like them because the tiny, shiny nylon shorts from those days left very little to the imagination and, when I was wearing them,  constantly got me hard. I groped and stroked his arse and we rubbed our cocks together through the satiny fabric. I was suddenly so hard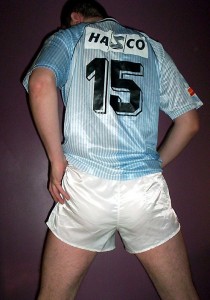 you could have driven me into a plank. I think he had the same thought because he soon had me pressed up against the bedroom wall and was trying his best to hammer me into it. He pulled down the back of my sexy black shorts just far enough for him to gain admittance.
It was a capacity crowd as he rammed home several inches of throbbing not so 'nice-boy' meat. His urgent long dick plunged in and out as one of his hands held me to the wall while the other was furiously rubbing away at my nylon-encased cock. We moved from the wall, over the chair and then onto the floor. All the time his fingers rubbed and stroked the sexy fabric. My hands caressed and stroked his fantastic, white shorted, humping arse as we rolled around the carpet getting nearer and nearer to our bursting point. I just couldn't hold back any longer and I spurted my load into the front of my shorts as his ever-groping hands massaged and squeezed my cock. A few seconds later he rushed in and shot home an absolute blinder and, from the noise he made, I think he was scoring in the World Cup.
Images: Tumblr