Bent America – XELLE Breaks into a 'Sweat'
Summer may be over but XELLE aims to make this month the hottest of the year with their exciting new single release. "Sweat" is a little bit dirty, a little bit naughty, and a whole lot of fun.
It's got the high gloss pop sheen of a Britney track with the powerhouse vocals fans of the girl group best known for throwing an illegal dance party on a moving NYC subway train have come to expect. "It's what's playing in your mind when you see that hot guy or girl across the bar and you know it's time to make a move," says Rony G, one of the dance floor divas that fronts XELLE.  "It is all about flirting, feeling sexy and confident, and giving in to your romantic desires," adds JC Cassis, the other half of the energetic duo.
Video: we flirt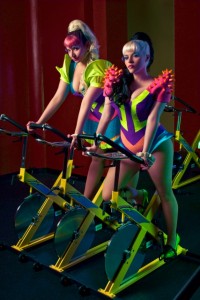 "Sweat makes playful, suggestive connotations that will inspire some physical action," continues Cassis, "but there is a deeper meaning to the song too.  As curvy women, we wanted to take on the themes of fitness, body image, and feeling beautiful just as you are. We work out and eat healthily, but we've still got our curves, and we know we're not the only ones."
"You don't have to have that stereotypical 'perfect body' to be fierce," adds Rony G. "Watch us with our dancers in the video and you'll see what we mean!"
Written by Zach Adam and Lisa Greene (who has penned hits for Britney Spears and Kylie Minogue), the track builds on the band's previous releases, songs like "Queen" and "Hologram," all of which centered on having fun by mixing high-energy vocals and danceable beats with powerful synth rhythms.  However, "Sweat" takes it one step further.  It's sassier, frolicsome, more colorful and slightly off-the-wall.
The video parodies the aerobics culture, ridiculous exercise classes and the terrible late-night fitness infomercials of the eighties.
XELLE cast Brett Azar as the hot, bodybuilding Tony Little-esque instructor.  They also brought on a fierce group of curvy jazzercise dancers and called on celebrity friends like Bianca Del Rio, Courtney Stodden, Andrew W.K. and Sherry Vine to make cameos.  Designer Geoffrey Mac created the insane costumes and the hair design is by Wigbar.
NYC drag star Marti Gould Cummings also appears as the catalyst for the surprise twist ending!
"Fitness is a good thing, but obsessing over perfection, or superficial things like how you look, can be a problem, especially for those doing harmful things to try to look like the unattainable, photo-shopped super models we see in magazines and on television," says Rony G.  "It's important to remember that whatever type you are, or look you're sportin', somebody's into it."
XELLE is an all girl group that came out of the gay men's nightlife scene.  It formed four years ago when singer-songwriters JC Cassis and Rony G and producer Zach Adam (who has produced numerous number one hits in Europe and Asia) united with the idea to create a band that combined the sass of TLC with the fun of The Spice Girls and the timeless pop excellence of ABBA.
"We call our sound Megapop, because it's everything you love about pop music, turned up all the way," says Cassis.   Together with Zach Adam, the group has unleashed a slew of jaw-dropping songs and music videos.  Their video, "Hologram", is the first choose-your-own-adventure, interactive YouTube video, and the longest music video ever.  It stars Janeane Garofalo, Kerri Kenney-Silver, and Martha Wash. "Queen" is a trippy, visually stunning piece starring nearly all the cast of RuPaul's Drag Race All Stars.   Their last single, "Red Flag", was a call-to-action, meant to inspire fans to stand up to people like Russian President Vladimir Putin and New Jersey governor Chris Christie (who, at the time of the release, was petitioning his state's court to repeal their ruling allowing gay marriage).
XELLE has a strong fan base in the LGBT community and beyond, and they have headlined festivals and clubs all across the US, sharing the stage with Salt 'n' Pepa, Joan Rivers, Mya, Deborah Cox, Lil' Kim and many more. They create their music and videos with their fans in mind.
"We want to be the role models we didn't have growing up," says Rony G.   "We aim to inspire our fans to do what they want to do in their lives no matter what society says about it."
Sweat was mixed by Ryan West (Eminem, Rihanna, Martha Wash) and mastered by Joe Lambert.  The first official remix was produced by elite remixers, NovoGain.
 "The message behind everything we do is to celebrate and love yourself for who you are."
 Sweat is available on iTunes now.
Follow all of XELLE's crazy adventures, as well as their weekly Threesome Interview video series with celebrity guests atwww.XELLEmusic.com.
Facebook: www.facebook.com/XELLEmusic
Twitter: www.Twitter.com/XELLEmusic
Instagram: www.Instagram.com/XELLEmusic
YouTube: www.YouTube.com/XELLEmusic