Workaholic Brits on summer holidays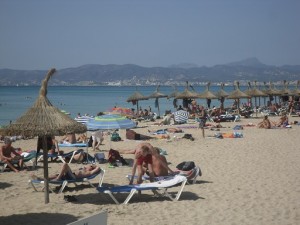 With the schools out for summer, it's time for Brits to pack up their suitcases and jet off to sunnier destinations, and a new survey from ESET has revealed most people won't be forgetting their work-enabled mobile device in their luggage this year, with the anticipation of having to work while on vacation.
The study looked at the attitudes of 1000 UK, employed consumers and revealed that that 44 percent of respondents will be taking their work-enabled mobile device abroad this year, and that over a fifth will be checking their work emails on a daily basis. Other findings revealed that 36 percent of respondents admitted that checking emails will actually make them feel more stressed, rather than relaxed during their break, and that WiFi access will determine which hotel over a third of respondents choose to stay at during their vacation.
In response to the survey findings, Mark James, a security expert at ESET UK, said: "Holidays used to be a time for us to escape the office, relax and spend time with our families, however our survey reveals that in today's hyper-connected world there is no escape – even while on vacation. This clearly means that office workers find it difficult to relax on holiday and could ultimately mean they feel more stressed about returning back to work, rather than refreshed and recharged."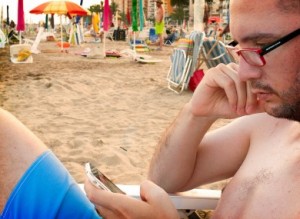 The survey also revealed that 67 percent of respondents will carry work-related data on the mobile device they take on holiday; however over a third admit to having no security on the device what-so-ever to protect the data. In addition to this, 35 percent of respondents admitted that they don't check or care if the WiFi network they connect to while on holiday is secure and private. This could ultimately put corporate data at risk of cybercriminals and theft.
"The unfortunate reality is that employees don't seem to worry about how secure the information on their mobile device is when they are on holiday, and could therefore be putting sensitive data at risk. However, what employees must realise is that when they access corporate information from a mobile device, whether it's personal or company owned, and it's misplaced then the corporate data it contains is at risk and no-one cares if you were on 'a break'. My advice to organisations is to recognise that staff  may work while on holiday and therefore take appropriate security precautions. This could include implementing security on all devices which contain corporate data and providing guidelines around connecting over public WiFi networks," continued James.
Other findings from the survey revealed that it is younger generation that find connectivity most important while on holiday. The survey found that almost 57 percent of 18 – 24 year olds  take their work-enabled mobile device on holiday, in comparison to 46 percent of   25 -34 year olds, 47 percent of 35 – 44 year olds, 36 percent of 45 – 54 year olds and 34 percent of 55 + year olds. In addition to this the survey also found that 18 -24 year olds check  work-related emails most while on holiday, with over a quarter looking at them daily. These figures come in spite of a recent report from the Office for National Statistics (ONS) which says that the people with the highest average wages were aged 38 years old and over, and overall wages have decreased since 2009, just before the effects of the economic downturn were felt on wages and inflation.