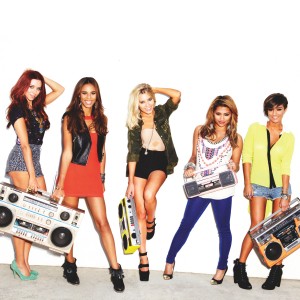 It has been seven years since Una Healy, Rochelle Humes, Mollie King, Frankie Sandford and Vanessa White joined forces to become The Saturdays, in the process turning into one of pop music's great success stories of the 21st century.
And now, 18 singles, 13 top ten hits and one number one hit later, The Saturdays are in the mood to celebrate their longevity in the fickle world of girl bands with a Greatest Hits album and a nationwide arena tour this September.
Back when the quintet were complete strangers, such an achievement seemed a long way off. Uma  admits as much, quipping "it would have been a dream to put together an Greatest Hits album and then going to tour it", while Mollie concurs. "It's something we've dreamt of and worked so hard for people to have longevity these days, we're proud".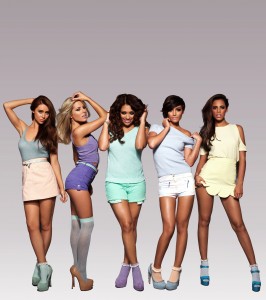 Aside from killer pop songs – and there can be no denying the likes of Up and What About Us are just that – the pair reveal that a number of factors have helped maintain their success
"It's a combination of different things. We've been very lucky, we've worked very hard and of course the support of the fans has been there since the beginning. We wouldn't be anywhere without them!
"I think it's the fact that as a five piece we work really well together," Mollie adds, "there are never really any big arguments, we understand each other, we all have the same drive and passion. If you have your heads in the same place, it's easier to succeed".
There have been changes in personal circumstances over the years – Una for one has become a mother, got married, while Frankie is due to marry former footballer Wayne Bridge this year – but they have learned how to cope with those demands. "I don't think any of us are that different, really" Una notes. "I'm still the same person, I've just lived a bit more life. I still live each day as it comes. I don't think I notice things differently."
"I think overall I'm still the same," agrees Mollie. "I've learned a lot – when I joined the band I'd just turned 20, now I'm more grown up. I still worry about everything, but I've grown up as a performer and a person. We all have."
Even in the relatively short space of time The Saturdays have existed, the music industry has changed.  But even battling the changes in how music is distributed (Uma says the group are "still old-school" in singing copies of physical albums for fans to buy) it is the sound of the music that has preoccupied The Saturdays.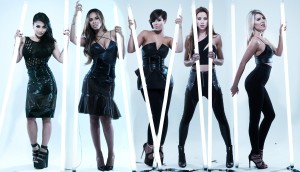 The girls confirm that the songs have evolved over time to keep up with trends in the charts.
"We've definitely moved along with the times," Mollie says. "At the beginning we were straight pop. More recently we've become more dancey. That's the way the times are going, and I think it's good to show you can move along with that. You can't be doing stuff you were doing six years ago."
Outside of the music, The Saturdays have become tabloid favourites and as such been afforded opportunities to pursue extra-curricular activities. Una hosts a TV show in Ireland, while Mollie has made moves into the fashion industry, designing a line for Oasis.
"That's another reason why we've lasted so long – nobody resents the others doing something on the side. I love the fashion, and I'd like to get into that more as time goes on. Hopefully there's a lot more for me to do in fashion in the long-term".
But don't take that as the beginning of the end for the Saturdays. Where Greatest Hits tours can signal a break-up in the offing, Una couldn't be more emphatic that it is merely the closing of the latest chapter on The Saturdays' incredible story.
"That's not happening! It's more celebrating a milestone. We're already planning out next album. It's not the end!"
Courtesy of Interview HUB