Confession – The Kylie Incident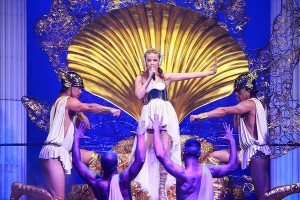 I was at a Kylie Minogue concert a few years back and had managed to get myself quite near the front. However, there were a couple of rows ahead of me as we pressed up against the stage so I wasn't quite within grabbing distance of our sexy Aussie pop queen.
Once she took to the stage there was a sudden surge forwards and I was pressed up against a rather cute young guy who screamed and shouted his undying love for our girl as she did her thing. Her backing male dancers were pretty sexy as well and got me all hot and bothered as much as she did. We swayed to the music, we bounced along with the fabulous, uptempo stuff and it wasn't long before I realised that I'd grown a stiffy in my pants being so hard pressed into this guy in front.
It was so packed I had trouble releasing the zip on my pants but eventually I was able to let it spring out and lodge pressed up against his gyrating bum. I have no idea if he knew what was happening or not but throughout the show his hot little body danced as much as he could with Kylie's encouragement and had me constantly on edge. His constant movement and the wiggle of his slim hips rubbed me into a fever I found hard to contain.
Eventually I could hold back no longer and, while whooping and cheering along with the crowd, came in buckets splattered the seat of his tight blue jeans. I bet he wasn't the only one to experience the same thing that night but I've had several pleasant nights since then just thinking of that innocent guy wondering what he must have sat in that was so messy and reliving that explosive show.
Ray, London                 If you have a confession you'd like to share, send it to editor@bent.com