Theatre Review – War Horse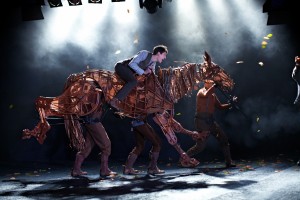 After I'd wiped a tear from my eye as I came out from the Alhambra Theatre in Bradford I, like so many other members of the audience, was immediately searching for as many superlatives I could think of… my head was full of them.
It's a production that I'd heard about for so long; a different and spectacular way of presenting the movement of animals onstage. Some reviewers have said that it is a technical masterpiece but nothing can actually prepare you for seeing this show in a theatre, live.
Based on the hugely successful novel by Michael Morpurgo, The National Theatre's War Horse is both a funny and poignant story about the love of a young boy for his horse at the commencement of the First World War. Perhaps, now we are at the beginning of the centenary commemorations of this appalling event, the story has even more significance.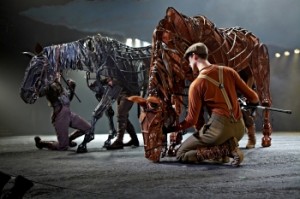 The actors play their parts incredibly well but the stars of the show are without doubt the puppeteers who bring the horses to life. Not one mannerism, or should that be equine-ism, is missed in making these animals believable. The horses eyes drag you in and you forget about the people making it all work, as you feel the fear and the joy of these animals as they rampage around the stage.
In the packed Alhambra auditorium the emotion was palpable. The show did have its amusing moments but as each twist and turn in the drama unfolded breathing was put on hold, heartbeats quickened and tears were waiting to be shed.
Steven Speilberg did a magnificent job with the film version but the stage production continues to set a standard that is simply brilliant.