Book – Be Brilliant Everyday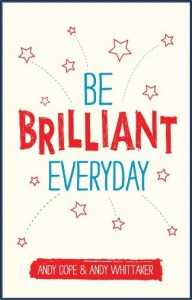 The most brilliant (and refreshingly realistic) self-help book you will ever read
Be Brilliant Everyday is quite possibly the most entertaining self-help book you will ever read. Funny and cutting, this book aims to inspire you to be that awesome version of yourself, when you are at your brilliant best.
Rather than preaching self-help jargon, Be Brilliant Everyday provides simple, thought-provoking anecdotes, eye-opening facts and creative stories that will raise a smile and put a spring in your step. For example it talks about:
•Are you too busy being busy? Sales of grated cheese and pre-peeled hard-boiled egg are up. But sales of oranges are down 30% (because they take too long to peel!) 'Busyness' has got such a grip on us that we're no longer immersing ourselves in life; we're skimming the surface. The chances are you are living life fast, but are you living it well?
   •Are you a 'musterbater'? Do you elevate the things you think you would like into things you feel you must have? Be Brilliant Everyday helps put this attitude into perspective, inviting the reader to reflect on their most precious memories – it is unlikely there will be a single product in there.
   •Do you hang around with mood hoovers? Some people will suck the life out of you and fill you with their negativity. Be Brilliant Everyday explains how to identify and deal with these people, and make sure you don't pass on your own negativity. It's about helping you (and therefore those around you) feel brilliant!
   •You only have to be brilliant for 4 minutes: Be Brilliant Everyday explains the 'four-minute rule' – it takes four minutes for others to "catch" your feelings, so if you are happy, upbeat, passionate and positive for four minutes, people around you will have almost no choice but to be positive too.
The authors, Andy Whittaker and Andy Cope, are experts in the science of happiness and positive thinking. Both juggle careers as highly successful and sought after public speakers with alternative double lives, as a part-time stand-up comic and a million-selling children's author respectively. Together they run Art of Brilliance, a training company that delivers "Brilliant" workshops for high profile organisations like DHL, Pirelli, Ginsters, Alton Towers, Toyota, Waitrose, Hewlett Packard, IKEA, and Astra Zeneca.
Andy Cope is currently doing a doctorate in the science of happiness and positivity, and is well on his way to becoming the UK's first Doctor of Happiness. The combination of his scientific findings and Andy Whittaker's humorous writing style make the book not only insightful, but also thoroughly entertaining.
Be Brilliant Everyday by Andy Cope and Andy Whittaker
Published in May by Capstone, priced £10.99.
Comments via Facebook
comments