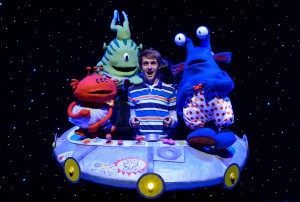 Who'da thought it… Aliens Love Underpants, of every shape and size, but there are no underpants in space, so here's a big surprise… they're coming to get 'em.
The story of the mischievous aliens who come to earth on an important mission to steal human's underpants has stunning effects, madcap action, original music and lots of aliens of course! It may be aimed at kids but we all love our underpants so… who can blame the Aliens…  after all, they're only huma… ooops… no they're not are they?
This zany and hilarious tale, adapted and directed by Adam Bampton-Smith, is being brought to life on stage for the very first time. Adam Bampton-Smith is the Artistic Director of Big Wooden Horse Theatre Company which he founded in 2004. He has written and produced The Legend of Perseus, Don't Let the Pigeon Drive the Bus!, The Night Before Christmas and The Life and Adventures of Santa Claus as well as adapting for the stage the Oliver Jeffers books The Way Back Home and STUCK.
First published in 2007, the UK edition of Aliens Love Underpants has sold more than two million copies and has become a firm family favourite. It was listed as the most borrowed children's book from UK libraries in 2013, and it has been translated into 46 languages. Claire Freedman and Ben Cort have also enjoyed great success with their books Aliens in Underpants Save the World, Dinosaurs Love Underpants, Pirates Love Underpants, Aliens Love Panta Claus and Monstersaurus!, and their new book Monsters Love Underpants will be published this autumn. Ben also illustrated the recent children's edition of Ringo Starr's Octopus's Garden.
ALIENS LOVE UNDERPANTS stars Charlotte Cooper as Veronica, Mark Collier as Mr Stevens, Cheryl Felgate as Mum and Harrison Spiers as Timmy – and their magical puppetry skills also bring the colourful cast of aliens to life.
Leicester Square Theatre, 6 Leicester Place, London WC2H 7BX      –   19 July – 31 August 2014
Box Office: 08448 733433 or book online at www.leicestersquaretheatre.com  (booking fees apply)
http://www.facebook.com/loveunderpantslive
http://twitter.com/underpantslive
Comments via Facebook
comments