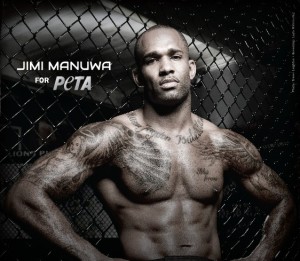 He's undefeated in the ring, and the next opponent he'd like to knock halfway to the moon is the fur industry. Flexing his ultra-chiselled and amply tattooed torso next to the caption "Ink, Not Mink", UFC light-heavyweight fighter Jimi "Poster Boy" Manuwa appears in  a brand-new ad for PETA. The ad concludes, "Fight Cruelty to Animals. Say No to Fur and Fur Trim."
"Animals beaten, gassed and electrocuted for fur are never given a choice and are powerless to defend themselves", Manuwa says. "Anyone interested in fighting animal abuse can join me by refusing to wear fur."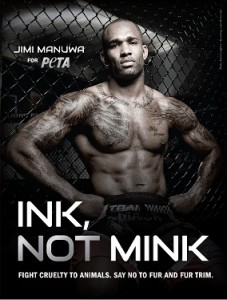 In the wild, animals caught in steel-jaw traps can languish for days, slowly dying from hunger, thirst, disease, blood loss and predation. Some, especially mothers with babies, chew through their limbs in a desperate attempt to escape. Animals on fur farms spend their entire lives confined to cramped, filthy cages before they are beaten, gassed or anally electrocuted. Sometimes, they are even skinned while still alive. More than 2 million cats and dogs are skinned in China every year – many while still conscious.
Nigerian-born Manuwa wants to be the first Brit to win a UFC belt, and with a fighting record of 14 fights and 14 wins – 13 by knockout, one by submission – he is well on his way. Manuwa is ranked 11th in the world in the light-heavyweight division and is currently training for his biggest opportunity to date, when he'll face Alexander Gustafsson in the headline fight for the UFC's London event on 8th March.
Manuwa joins rugby star Danny Cipriani, strongman competitor Patrik Baboumian, England cricketer Jade Dernbach, squash champion James Willstrop, basketball star Metta World Peace, boxer "Sugar" Shane Mosley, marathon runner Fauja Singh, ultra-endurance athlete Rich Roll and fellow UFC fighters Jake Shields and Mac Danzig in teaming up with PETA or its affiliates to encourage kindness towards animals.
For more information, please visit www.PETA.org.uk