Bent Fiction – Eruption by Les Lea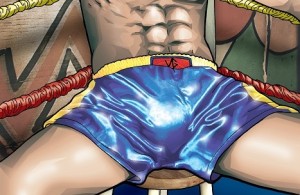 Artwork: Paul Newboult
 I'd seen a report on the latest boxing sensation on the local news. Though I've never been to a bout in my life, I have to admit that boxers had always turned me on. As a kid I enjoyed seeing those fantastically taut bodies dressed in their shiny satin shorts, which under the ring lights, seemed to glow and shimmer as they belted hell out of each other.
This new boxing phenomenon – destined for the big time – was only 18 and had won every one of his amateur fights. He was stunning; with close cropped hair and spookily green eyes he was meant to be adored. The reporter on the news item had done the interview as he was sat in the corner after a training session. He was sweaty, breathless and, in the wide shot, you could see his well filled satin shorts riding up his thighs. Hell, I could have creamed myself there in front of the telly. I was surprised that he trained at a gym in my home town and, like some sad stalker I wanted to track him down to watch him in action.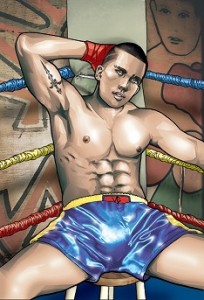 I became so besotted I joined his gym. Yes, me at a gym. I hadn't ever done any training in my life but this young spunk had inspired me… and of course I timed my sessions to coincide with when he was training, which seemed to be daily and none-stop. It was one of those gyms that don't take kindly to posers… if you arrived in the latest gear, stood around adopting attitude or just chatted and didn't seriously sweat… this was definitely the wrong place to be… this was a working gym and you were expected to be 100% into it. So, in between 'giving my all' I used to watch him as he pounded some heavy bag or sparred with some lucky partner. A couple of times I'd joined him in the shower or in the sauna after a work out but there were always others around so it was just a case of admiring his stunning body, and surreptitiously taking in his spectacular genitals… there was nothing else I could do.
Then one evening we were alone in the sauna. I nodded an acknowledgement and he smiled back. He sat with his legs wide open and his thick cock bouncing around in front of him. I ventured a look and a comment about looking like he'd brought a baguette in with him… and he just laughed and invited me to take a better look. Nervously I approached him and he was all smiles and encouragement and I was soon on my knees inspecting the thing at first hand.
"Feel it," he encouraged "Take it in your mouth. I know you want to."
It was like he was reading my mind and although I was nervous (anyone could have walked in on us) this naked sweaty, young guy making himself available to me was just too good an opportunity to miss. His cock was soon rock hard and a good, thick and veiny 8 inches. I was dribbling in anticipation… my mouth getting ready to give his throbbing dick the best blow job I could deliver. I licked my way up his rigid penis to the slender crown and let it glide between my wet lips. Teasing the slit before devouring it further I was driving the lad wild and thought about sliding a spit-slick finger into the young boxer's rectum, rubbing the prostate and sending him into orgasmic heaven. It was a technique that in the past had produced some startling and explosive results and I hoped the sports star would appreciate the honour. I slid my finger into his mouth and let him suck on it until it was wet and dripping. Transferring my now lubed digit to his tense little bum, it hardly commenced its journey up the dark tight channel when the lad's back arched, his cock swelled and, like a volcano, he erupted in a fantastic display as hot bursts of thick, boiling cum spewed from his pulsating pole. The surrounding area was covered in the lad's prolific milky lava flow and as he caught his breath I began my own clean up operation. I licked up every drop and spent time removing any existence of his eruption from that fantastic body. Not only did the lad fight well, he looked good, was hung like a God and tasted pretty awesome. I was expecting the brush off as soon as he'd cum but he laughed and complimented me and said he hoped we could do it again some time… perhaps when we weren't as rushed!