Bent Confession: Ripped Pants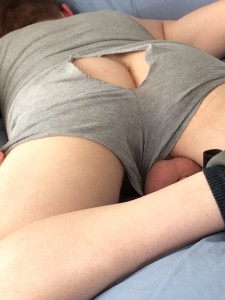 Hi I'm Ben, bi-curious and a builder. I was working on a house down on the South coast last summer when I saw the young son, who'd been away uni when I started the job, sun-bathing in the garden.
I was doing some re-tiling on the roof at the time so looking down on him was quite a sight. He was just wearing a manky old pair of ripped undies, which exposed his rather delicious arse. I  have to say I got a stirring in my pants which led me to my next act. Jokingly I wolf whistled, which isn't something I normally do, and he waved, smiled and offered me a drink. He invited me into the kitchen, for a chance of some shade as a brief respite from the heat and I was grateful for the cool soda and his thoughtfulness. In the kitchen I noticed he'd got a hard-on and feeling a situation was arising, as well as my dick, I asked him what his sexuality was. He said he didn't know, so I took it upon myself to pull down his thin aging pants and release his cock. I got on my knees, opened my mouth and took his throbbing knob between my lips. I think at that moment he knew what his sexuality was and I guessed, correctly as it turned out, that his ripped pants were a 'come-on' designed to test me.
He was very, very excited by the whole scene and after a few glorious slurps from me came in buckets right down my throat. After he'd got over his orgasm he confessed that he really fancied the way I looked and hoped I'd take the bait. I said I'm glad he had but that he should return the favour. Surprisingly, we then went upstairs to his bedroom for a bit more comfort and he did the same for me. I spent the rest of that job exploring the lad's, and my, sexuality in between rebuilding parts of the house. The job over ran by a couple of weeks but I didn't charge the parents for my extra time as it would have seemed ungrateful seeing as how he was such a horny little bugger. I still have the lad's ripped pants and often fantasies about that particular summer job.
Ben, Kent.    If you have a confession you'd like to share, send it to editor@bent.com