THE RUBBERBANDITS HOLD UP SOHO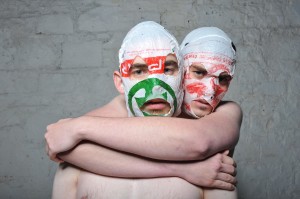 Photos: Steve Ullathorne
DIRECT FROM LIMERICK! RUBBERBANDITS, the plastic-bag wearing musical comedy duo – the Chortle Award winners responsible for YouTube sensation 'Horse Outside' – return after two sold-out 2013 seasons to smack Soho in the face again with their high-energy, marvellously silly brand new show, from 30th January – 22nd February.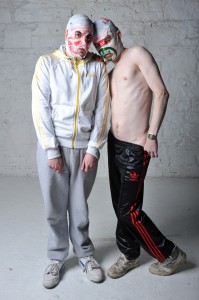 CONTINENTAL FISTFIGHT will be packed with dazzling new songs, great big hits and at least one puppet. Here's a preview of one of their newest songs, Hey Mister: http://www.youtube.com/watch?v=P_ZTrXAxZ-g – which attempts to answer the eternal question (particularly around Shoreditch) – Hipster or Hobo?
RUBBERBANDITS began entertaining their school friends with recordings of prank phone calls, which soon became successful radio broadcasts.  They caught the eye of Irish broadcaster RTE and when 'Horse Outside' was aired on the channel the video went global and was only narrowly beaten to the Christmas number one slot by the X-Factor single.
RUBBERBANDITS (aka Blindboy Boat Club and Mr. Chrome ably, and occasionally intoxicated-ly, supported by Willie O'DJ) have never shown their faces in public and always appear with expertly fashioned plastic shopping bags on their heads. Their outrageous live shows combine raved-up music, sketches and on-stage insanity. They are hard to define but Rubberbandits straddle the music and comedy worlds like … well … like their twitter handle states:  "like the tortured breath of Bob Marley that bullies its way through the air and extinguishes the candles on Brendan Behan's birthday cake"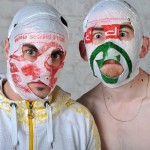 www.therubberbandits.com @rubberbandits
       Soho Theatre, London     www.sohotheatre.com       
       Tickets: 020 7478 0100