ES Collection presents THAI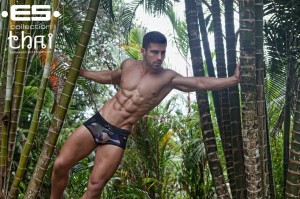 The search for paradise, the idyllic, outdoor and even our fantasies are things that always make us look for new challenges in every one of our new campaigns.
We constantly aim to outdo ourselves each season, and with that, ES Collection wanted to carry out a photo shoot outside of Spain for the first time ever. The place of choice to photograph the 2014 swimwear campaign was Thailand – the beaches of Khao Lak and the Similan Islands to be exact. A paradise of beauty beyond compare, these places are full of the ancestral and cultural Thai magic that is on offer to all visitors.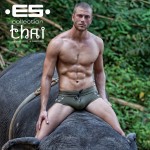 "THAI" has been the biggest production that ES Collection has undertaken thus far. A huge team of professionals, the latest generation tech team, wonderful locations and an abundance of excitement has made this great campaign possible," comments Hector Aguilar, the ES Collection Production Manager.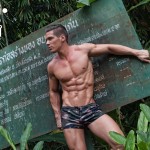 Over 11 days the ES Collection team was hard at work, capturing the striking images seen in the "THAI" campaign. Even with some slight difficulties in the production process, being able to obtain gorgeous images in such a sublime venue was not a difficult task. However, a location is not just physically beautiful because of what you see, but also because of its inhabitants, and this is one of the main reasons why Thailand is wonderful. "The Thai people among the most polite, friendliest and happiest people we have ever come across. We are proud to have chosen Thailand as the location from where to present our new swimwear campaign to the world," says ES Collection Product Manager, Eduardo Suñer.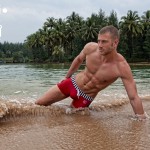 He adds, "The swimwear collection that ES Collection is launching in 2014 is probably the most elaborate and original until now. The material and fibres used, and new high-quality overlays, such as elegant yet innovative designs and colours, are just some of the things you will find. We are extremely satisfied and proud of the result, and I am sure people will love it."
A landscape of dreams, nature in its pure state, sensuality and masculinity, ES Collection is proud to present its new swimwear campaign for 2014: THAI.
Photographer: Joan Crisol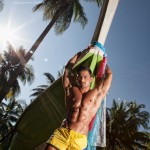 Video: Jon Gómez
Models: Jacob Covadlo, Roman Dawidoff y Gabor Hegyi
TEASER VIDEO: http://www.youtube.com/watch?v=dnwwV0lDrd4
Comments via Facebook
comments