Bent Fiction – Kyle the pro by Les Lea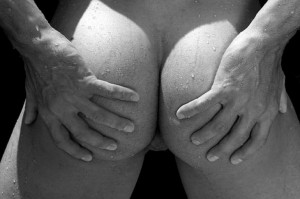 Kyle had a routine, one he liked to perform just to make sure he was in the mood before he had sex.
Kyle knew from past experience that when it came to sex most guys just wanted to rip off his pants and get straight down to shafting his taut young body… but he liked to prolong the moment… so he would start by himself a good while before his 'guest' arrived.
Slowly removing his clothes he would feel every item as it slipped from his body. The sensuous swirl of certain materials adding to the sexual chemistry that was already filling his head. Occasionally catching sight of his growing excitement reflected in the mirror, made his nerves tingle. He loved spending that little bit more time letting his cock throb behind the cotton boundary of his tight briefs, which also hugged and emphasised his perfect bum, before pulling them off to reveal his pale but well-shaped torso. His stiff proud cock, his perfectly sized hanging ball sac… he turned to look in the mirror at his best feature… the main reason he was in such demand… his faultlessly shaped and unblemished arse.
Once naked his body thrilled in the knowledge of what was to cum… his visitor… a regular but who on this occasion at least was twice his age, twice his size and twice the length and girth… would only want one thing… Kyle would be well prepared.
He tweaked his own firming nipples, his hairless chest heaved in anticipation and those 'crazy head thoughts' took him on another journey as his hand reached down to his cute but insistent cock. The recently nude pubic area was just as his visitor demanded him to be… shaven and smooth. His bum hole was equally bereft of even the finest of hairs; his anal lips velvety, tight and ready to grip and control anything that would find its way to this erotic point.
He lay out on the sof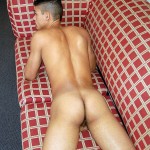 a and surveyed his youthful body and loved what he saw… as did the many others who paid him a visit. He stroked his growing firmness to its full throbbing glory… little glistening pearls of pre-cum bubbled from his piss slit… and he gloried in the sensual feeling his own hand could produce. His gentle but constant massage bringing that firm cock to a peak he could hardly contain. Finger nails grating across the pink dome of his bell-end, tickling the sensitive fraenum and sending wave after wave of pleasure throughout his body. Fingers covered in sticky lubricant sought his tight little butt-hole and smoothly slipped into that dark but welcoming crevice. Again the pleasure threshold had him swooning with delight as his butt bucked to receive even the smallest of incursions. His warm, well-trained sphincter muscle responded and gripped firmly, he knew that his hole could drive a guy completely over the edge. He wasn't like most young guys; he just didn't lie there and let a cock pound his butt. He worked those muscles… swivelled his hips… bucked and bounced and moaned as he knew his punters loved him to…
A knock on the door brought him from is reverie and he knew he was ready to do business. He got up onto his knees and bent over the sofa calling out for his guest to 'enter'; smiling to himself as he realised the double entendre he'd just made. The door opened – presenting his rampant visitor with his tight, cute beautifully shaped and lightly lubed hole available for immediate entry.