HOMEGROWN LUXURY: THE EBRINGTON ARMS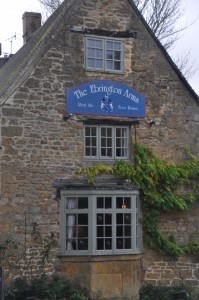 Words by Adam Lowe      Images by Drew Wilby   
  The Ebrington Arms dates back to  the 17th century. The 1640 farmhouse became a pub shortly after, and has been the centre of country life in Chipping Camden ever since.
 In 2007, current owners Claire and Jim Alexander took over The Ebrington Arms. Since then they have set about turning this into one of the UK's finest public houses and B&Bs, with gorgeous period features and top-notch mod cons. The pub has rightly won awards for its grub and booze, and for its excellent boutique accommodation. The Ebrington Arms was named in the Campaign for Real Ale's North Cotswold 'pub of the year' each year from 2009 to 2011.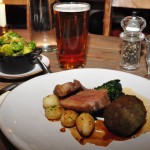 The pub offers AA Rosette award-winning dining, with a menu that includes fine pub food: steaks, venison burgers and homemade fish and chips.  Diners can sit beside an open fire to warm themselves on chilly winter days, or can opt for more formal dining in the brasserie. Guests can also take part in food nights with set menus, or chose from the £7 lunch menu on weekdays.
The Ebrington Arms is also the home of the small Yubberton Brewery, which is named after theand a dry hoppy finish beer that costs £3.20. The Ebrington Arms also serves a nice range of local and guest ales, including pale ale Budding by Stroud Brewery, Hill Climb by Prescott Brewery and Cotswold Best bitter. Lagers include Freedom Four  and the stronger Freedom Pilsner. There is also a Freedom Stout to match, with a velvety blend of coffee, molasses, fruit and honey notes. Ciders from Robinson's and Weston's are also available, and wine is sourced from local indie, The Grape Store. There are plenty of spirits too with gin, vodka and whisky. just to name a few.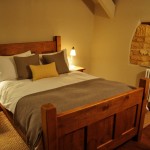 Accommodation in the pub is a cool blend of cosy traditional and modern style. There are five boutique rooms to choose from, including three double rooms and two king rooms with four-poster beds. All rooms have flatscreen TVs, DVD players, wi-fi and either an en suite bathroom or a shower room.
B&B prices at The Ebrington Arms start at just £130 per night, and the B&B does not accept children or dogs – which means extra peace and quiet for travellers. The pub can help organise taxis and transfers from train stations, if contacted in advance, which may be a good idea if you're not driving. If you do choose to drive, the route from London is very scenic indeed.  Visit http://www.theebringtonarms.co.uk/  for booking information.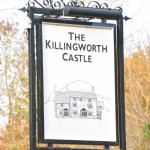 THE KILLINGWORTH CASTLE
The Killingworth Castle in Wootton by Woodstock is a gorgeously refurbished pub and restaurant, near Oxford and the Cotswolds.  The Killingworth Castle is the sister pub to The Ebrington Arms, although the atmosphere is airier and lighter. Touches like the fire and the beams add the weight of tradition.
There are plenty of fine ales at The Killingworth Castle pub, including local and boutique brews. These include Scholar by Shotover Brewery, which is a mild copper-coloured bitter at 4.5% ABV, and owes its rich flavours to a tasty combination of five malts and five hops. Pride of Oxfordshire is a 4.2% draught ale by Oxfordshire Ale, with a biscuity, fruity flavour. A bottled variety, at 5% ABV, is also on offer. The Uley Bitter is a malty, fruity bitter with a dry fin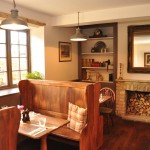 ish and a very aromatic smell. Both the Freedom 4 and Freedom Organic beers are on offer.
Ciders available at the pub include a sparkling amber Cotswold Cider (6.5%) and the unfiltered bottled Five Counties Cider (6%). Other local specialities include Cotswold Gin (41%), distilled in small batches from 100% grain, which makes full use of local flavours, such as hops, hawthorn berries and lemon balm. The Cotswold Vodka (38%) is similarly made, and five-times distilled to provide smoothness. Finally, the bar also serves some great guest ales, from XT8 to Isis Pale.
The Killingworth Castle has a great menu, serving top range fish, meat and game for lunch and dinner. Much of the menu is sourced with local and seasonal produce in mind, to make the menu extra fresh and extra special.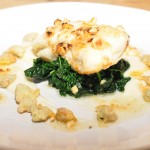 The starters include crispy salt cod and Cornish crab bon bons, a salad of Halesford lamb fillet and shoulder, a pressing of English chicken and black pudding, potted home-smoked salmon with a charred sweetcorn salad, and grilled prawns with melon and parma ham. Mains include grilled Cotswold rose veal, milk poached guinea fowl with truffle mash and foie-gras boudin, fillets of Cornish mackerel with chorizo, and beer-battered haddock with minted peas and home-cut chips.
Desserts include chilled vanilla rice pudding with marinated grapes, English berry and passion fruit Eton mess, rhubarb and treacle tart with custard ice cream, and Elderflower mousse with gooseberry compot and honeycomb ice cream.
For New Year's Eve, The Killingworth Castle will be throwing a party with takeaway fish and chips and live music. The pub also hosts special food nights and events throughout the year.
Plans are underway to develop the pub into a B&B, with eight guest rooms in the second building (which is currently unused). If sister pub The Ebrington Arms is anything to go by, we're sure it'll be a treat!
Visit http://www.thekillingworthcastle.com/  for booking information