Want to be a scrubber before Christmas?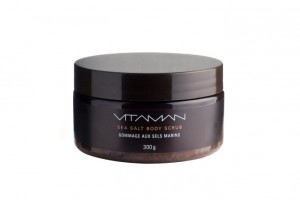 Starting a post-Christmas detox begins at home with a thorough skin scrub. It removes dead skin cells, gets the blood flowing and stimulates the lymphatic system to detox. Massage it into the skin in vigorous circular movements – shower off and you're on your way. 
The VitaMan Sea Salt Body Scrub also works to eliminate the build-up of dead skin cells, daily grime and dirt. Excellent for dry, rough skin, ingrown hairs and is excellent pre-waxing. It quickly exfoliates, helps eliminate blackheads and acne and leaves you feeling refreshed and invigorated with smooth, clean, younger looking skin.
Ingredients:
Aloe Vera Gel – an excellent moisturiser
Australia Sea Salt – coastal sea salt – a natural, gentle exfoliant perfect for removing dead skin cells leaving skin feeling smooth
Macadamia Nut Oil – super-moisturiser for dry or ageing skin that delivers essential fatty acids
Patchouli Oil – tones, tightens and smoothes rough, dry and cracked skin
Almond Sweet Oil – sweet Almond Oil repairs damaged skin by preventing evaporation
Cinnamon Extract – used to treat skin infection whilst imparting a warm, spicy aroma
Ground Wattle & Walnut Seeds  – aids the gentle elimination of built up dry dead skin cells
Directions: Best used during a shower whilst the skin is wet. Apply the Sea Salt Scrub to the entire body, excluding the face and exfoliate in a circular motion. Rinse off with water.
 VitaMan Sea Salt Body Scrub 300g –  £34.50
To view the complete VitaMan line, please visit www.vitamangrooming.co.uk