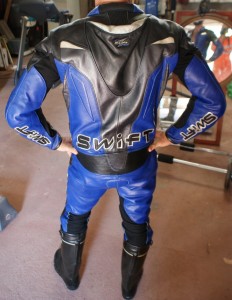 I was staying at my uncle's house like I occasionally do at the weekend. Things ain't going too well at home and I have no job to be able to afford to leave my parents place… so it sucks but these weekends away are a relief for both parties.  
I get on quite well with my Uncle Dave (my mum's brother), he's 35, about 6', 32" waist, goes to the gym, and well into his motorbikes. He's not bad looking (for his age) and I've always had a bit of a crush on him for just about all of my 18 years. Even as a little kid, he would make time to play with me, talk and listen to what I had to say… in many ways he was more parent than my parents who just didn't understand their only son.
The other morning while I was staying at his place he went out on his bike to get a part for one that he was restoring and said he'd be a couple of hours. I went and had a shower but, as I wondered around his place with just a towel wrapped around me I began to feel horny. I noticed one of his leather bike outfits hanging up and… me being me… I tried it on. This was the first time I'd ever had such an inclination, although I always thought Uncle Dave looked hot in his, and although it wasn't easy to get on, once I was wrapped in it I thought I looked pretty hot myself. I sat down stairs watching the TV, rubbing myself through the supple material and not being aware of the time… little realizing Uncle Dave had returned and was standing behind me.
 I don 't know how long he watched me but suddenly I saw his reflected image in the blank TV screen and I can't tell you how embarrassed I was with my hand stroking my hard dick and the dozy look of pleasure I must have had on my face. I was terrified at what he would say or do and I couldn't get the words of apology out quick enough but he smiled and said not to worry. I said "You don't mind then?" He said, "Not really, I've been wondering for some time what else, besides my sister, we had in common."  He smiled some more and pulled me to my feet. "You're of an age now to make your own decisions but I would really love to do you… if you think you're interested."
I hadn't expected such bluntness but, in truth, I was very horny so I just nodded and then everything happened so fast. He kissed me and at the same time got his knob out and starts wanking it… that was impressive. Then he  asked me what it felt like to be in his leathers. I told him the thought of his hot, throbbing cock pressing up against the leather and squeezed against the petrol tank made me feel pretty horny. He said that he always wore a cock ring under his leathers to give him a horny bulge, which  turned him on. We got pretty turned on ourselves as one thing led to another and we started shagging whist wearing the leathers. Well, in truth, he unzipped himself and released his fantastic dick while I shuffled out of my gear and stood all but naked in front of him with his leathers hanging around my ankles. That first time over the edge of the sofa wasn't what I expected and I can't say it passed off without a few squeals from me but… he came  up my butt a couple of times before we decided on a different approach.
We put the gear back on and I got behind on pillion as we powered off into the countryside where he found an ideal secluded spot by a river, where we did it all over again. I think I'm in love with my Uncle Dave!
 Steve, Chester              If you have a confession you'd like to share, send it to editor@bent.com
Comments via Facebook
comments