Bent Fiction – The Visit by Les Lea.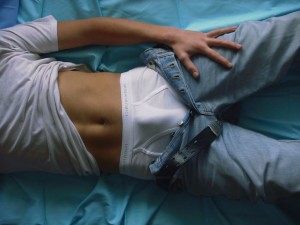 I'd been invited to spend a few days with a friend and his lover who I hadn't seen for quite some time. My mate Dan is 6'3″ tall, blond, blue-eyed and gorgeous. His lover is a 5'8″ stocky and a spunky Aussie called Carl who works with him; they are both air stewards.
Unfortunately, when I got to their apartment I found a message that said that they were going to be a day late as their flight from New York had been delayed. The life of a flight attendant is often thought of as glamorous, living out of a suitcase and darting off all over the world is pretty thrilling but it can be very disruptive to any kind of routine. This hectic lifestyle means that washing is often left for weeks simply because there is no time to attend to this simple task between flights. To me this was a godsend. I found their laundry bag with all their accumulated underwear in it. They had separated it from the rest of the washing but I realised as I delved deep that some of it had been waiting for those soapsuds for a good few weeks. There were at least thirty pairs of pants. Judging by the name on the waistband, Calvin Klein was the obvious favourite, they must have had every style the man had ever designed; black trunks, striped boxers, ribbed and plain white briefs, all in that lovely-to-feel soft cotton. Boss, Dolce & Cabana, Armani and other designer knickers just drew me to this treasure-trove; even the odd pair of pale-blue Aussiebum pants had me leaking my juices as I pulled off my clothes. The pervy truth is… I couldn't get my pants off quick enough so that I could live out one of my many nocturnal dreams.
I spent the next few hours trying on every pair.
A cute little pair of black Jockey boxers were the first to encase my bits. They were still damp with sweat from when the guys had been to the gym together, they were both health and fitness nuts when the job allowed. The pants felt fantastic as the tightness gripped around my cock and balls and immediately got my dick throbbing. I paraded around the apartment catching sight of myself, with every gleeful change of undies, in a full-length mirror. I was deep in my pervy element made even more real by the raging hard-on tenting out the front of all these different styles and colours of pants. Dan and Carl had great taste in underwear and I could imagine these two horny studs getting home knackered after travelling through various time zones, stripping off but still finding time to shag each other in their pants before dropping off to sleep. At least this is what I thought as I surrounded myself with their used collection, put on my favourite design, and wanked myself stupid. I filled the front of a pair of Dan's CK cotton briefs a couple of times and I was also free with my spunk in a few of his lover's cotton Aussie classics.
In the end I slept in the pair I'd already cum in and added to the sodden material a few more times during the night. The thought of that material wrapped around my arse, cock and balls which had so recently been wrapped around someone else's desirable parts, kept me constantly hard and rubbing. The aroma of dirty underwear left to ferment for a couple of weeks was just the final cherry on the mental trip I was on.
 Confession time. I eventually packed those spunk filled pants into my bag and brought them home and I'm wearing them now as I write this note. Yes, there is another damp spot forming…so I'll leave off now…going to give myself the chance to make it more of a sticky lake – as I feel so dirty and pervy and… fantastic.
Comments via Facebook
comments