Bent Fiction – Aaron's First Time by Les Lea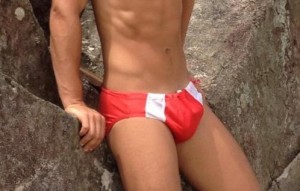 Aaron was 18 and as horny as hell. He was in the second week of a two week holiday with his mum and dad in Menorca and was getting highly frustrated by all the gorgeous guys that he saw every day. He thought, no that's a lie, he knew he was gay but hadn't found the words to tell his parents yet. He often thought about trying to say something but, just when he'd plucked up the courage to reveal his homosexuality, at the last moment his courage just disappeared. The first week of the holiday he'd followed his parents around the island looking at museums, churches, journeys into the countryside etc etc… and to be honest, he'd hated it, he just wanted time on his own.
He'd wandered down to the beach on several occasions just to watch the guy who was looking after the jet-skis go about his business. He was about 6'2", well-muscled, well-tanned and looked amazing in his multi-coloured floral shorts that he worked in all day. The man had been really nice to him when he'd plucked up the courage to hire a jet-ski himself, and after a bit of personal tuition, had found the ride around the bay very exhilarating. The jet-ski man, Pablo, was constant smiles and encouragement to all his customers but Aaron thought that he spent slightly more time with the young guys, than he did with the women who seemed to cluster around him all day demanding his attention and flirting so obviously. God he was so envious of those girls being able to be so brazen.
Pablo was in his late 20s or early 30s and Aaron was besotted by what he regarded as not only a true vision but the ideal man with whom he'd love to lose his virginity. When the man's strong hands had touched him as he showed him the way the jet-ski worked, a strange thrill had run through him like a bolt of electricity. He felt his tight red Speedos begin to fill out, as the man continued touching him while explaining the throttle and various safety features. Aaron didn't really take it all in as all he wanted to do was get away and hide his 'growing' embarrassment. Just as his young dick was about to pop out of the top of his swimmers Pablo patted him on the back as if he'd finished his instruction and turned to the next jet-skier waiting for their own spot of tuition. Aaron sped out into the Med as fast as he could, all the while thinking about that touch. It had seemed more than just instructional… although… he could be over-thinking the situation as the man was friendly to everyone. Later, he lay on the beach staring at Pablo as wild erotic thoughts rushed into his mind. His dick would be permanently hard and sticking painfully rigid into the sand. His little red Speedos were damp with sweat and pre-cum and covered in a film of sand where the moisture had made it all stick. It was at this realisation that he'd rush into the sea and try and hide his teenage throbbing embarrassment. A wave or a smile from Pablo got him all revved up again and he would be desperate for a wank… just to relieve some of those thoughts that occupied his head most of the time.
Later in the week business at the jet-ski shack was slight and Pablo began to pack up fairly early. Pulling the ten jet-skis and assorted other water craft onto the beach before locking them away in the shed toward the rear of the beach. Aaron took this as a sign to pull on his shorts and make his way back to the hotel room he shared with his parents. He stood up but felt a bit faint, perhaps a bit too much sun, and fell against a nearby palm tree. Pablo noticed him and called out to see if he was OK. The dizziness only lasted a few moments but in that time Pablo was over by his side and asking him, in fairly good English, if he was unwell. Aaron soon recovered and smiled his thanks to the hunky Spaniard who was holding him up but his eyes lingered just a few seconds too long on the man's crotch before he looked into his eyes. "You need some water." The hunk explained to the sun-reddened lad in front of him. "Come with me." Without thinking Aaron followed Pablo across the beach and into a ramshackle apartment just 100metres from the beach.
The Spaniard told his guest to sit as he went to the fridge and retrieved a bottle of water then told him to sip it slowly. As his young guest was re-hydrating Pablo rubbed some oily substance into the boy's red shoulders, while at the same time asking him about his vacation; how long was he here for, what sites had he seen, who he was on holiday with? "Just my parents" Aaron confessed.
"No girlfriend?" The inquisitive hunk continued but he already knew the answer, from the looks he'd been given and the embarrassment of his visitor. "Perhaps you like boys?" It was part question and part statement. "I like everybody… but I like English boys best." Pablo had sat down real close to Aaron who was absolutely transfixed. Scared but aware that this is what he wanted he sipped nervously from his water bottle and wondered what to do.  Although he had no idea of what to do next he knew he had no real intention of leaving as he wanted to see what would happen. As Aaron cast his eyes down in slight embarrassment Pablo reached across and rubbed the front of the lad's shorts. His dick was already semi-hard and it only took a couple of strokes to get it as stiff as it had been for most of the day as he'd sunbathed and spied on the Spanish hunk. As his red Speedos filled out and his dick took on a throbbing life of its own he let the Spanish hunk take control. Pablo was obviously an expert in such situations and pulled down the front of the nervous boy's shorts and eased his throbbing cock from behind his moist tight Speedos. Aaron couldn't quite believe what was happening but was desperate for it to continue so reached a tentative hand out to caress the front of Pablo's shorts… he was firm and thick…
(if you would like to receive the longer version of this story please send request to: dating ariane 2 )