You're in for a damn good spanking by Brendan Kelly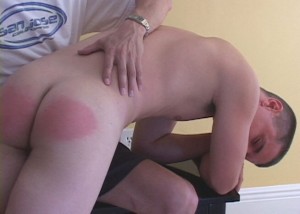 Sometimes… er…  how can I put this?
Sometimes you feel the need for a bit more to your sex life… than sex.
Yes, I know sex is good, fun, can burn a lot of calories, makes you feel brilliant and exhausted all at the same time but sometime, just sometimes you want to be taken in hand and… spanked.
Not to everyone's taste I'll grant you but, I didn't think it was mine either, until someone took it upon themselves, as I lay relaxing after a wonderful session, and he smacked my sweaty butt. I was taken aback and, when seconds later he slapped my bum again, I was on the verge of becoming very indignant indeed. It wasn't so much the pain, although it did smart, it was just something I wasn't expecting. So, when he grabbed my hands and held them together tightly and menacingly whispered in my ear that I'd been a 'very naughty boy', I wasn't sure what was going on.
A few more well-aimed slaps, him constantly telling me how naughty I'd been and how I needed to be punished, and my bum now glowing… I got the message.  To be honest, it was my dick that got the message before I did as that was throbbing like a demon well before my head had come to terms with this rather strange change of direction in my relationship.
Over the next few weeks, this naughty little boy' (yours truly) was spanked, smacked, whipped, belted, caned, strapped and paddled, as I fulfilled a series of fantasy situations that really tu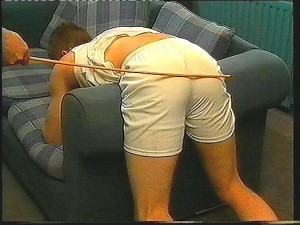 rned me on.
The 'role-play' always had him in charge. I always had to refer to him as 'Sir' and my punishment levels were graded on how well I'd behaved over a set period of time.  I loved the naughty schoolboy/pervy teacher scenario the best and was really into getting my butt spanked with a plimsoll before the inevitable shag fest that followed. Soldier and Commanding Officer, soldier and prisoner, sportsman and horny coach; my imagination took over completely as we played our parts and I'd never been happier than keeping a scene going as various bits of my body took some form of punishment… or other.
Early on we had agreed on a safe word (mine was cucumber) if things seemed to be getting too much and the action was to stop immediately. The word 'stop' wasn't allowed as begging for mercy and begging for it to stop was all part of the scene and I'm pleased to say I never requested a 'cucumber' break once.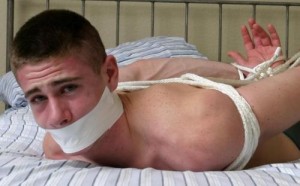 Of course, this isn't for everyone, and, until it happened to me, I would never have given it a seconds thought. For me it all just seemed to be abuse and I wasn't into that… and that was for sure. But, or in my case, butt, once he got to work on the gentle chastising, it soon built and I wanted more. Perhaps strangely, we'd never discussed a safe word for him if it all got too much but he appears happy to fulfil my desires now as much as I did his at the start of it all.
Now he's found ways to humiliate me in the way I have to dress. It started off when we went to clubs but now he demands I wear certain things to work. Other may not know (though may have an idea) of what I have under my suit but the thought of discovery, or restriction or sheer discomfort means I have to play a part, even when he's not around. On returning home I may be able to remove the item (or not), he may keep me waiting for sex for days or he has sex but I get no release.
It may sound grim but I can tell you, I spend the entire time as horny as hell and to think it all started with a slap on the butt.
All images from – Tumblr