FASCINATING AIDA'S CHARM OFFENSIVE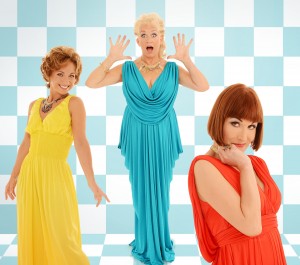 Recently Fascinating Aida, Britain's best-loved comedy cabaret trio, released a freshly minted song on YouTube entitled 'SONG FOR TEACHERS', (http://www.youtube.com/) which gained 100,000 hits within 7 days of posting. This song has been a huge success with audiences around the country, as part of the UK tour of their brand new show CHARM OFFENSIVE. Full tour dates and booking information can be found at www.fascinatingaida.co.uk/tour_dates.
Freshly invigorated by over 10 million YouTube hits for their song, Cheap Flights, Dillie Keane, Adèle Anderson and Liza Pulman present several numbers hot off the press, plus a few old favourites including their infamous anthem to budget travel.
Dillie Keane founded Fascinating Aida in 1983 (and was joined by key writing partner Adèle Anderson in 1984) and since then the group has played in hundreds of theatres in the UK and Ireland, with London seasons at the Donmar Warehouse, Lyric Hammersmith, Piccadilly, Vaudeville, Garrick, Apollo and Comedy theatres and the Theatre Royal, Haymarket. They have toured Australia three times, including a month at the Sydney Opera House, and also played New Zealand, San Francisco, New York, Berlin, Kenya, South Africa and Singapore.  As Dillie herself says, "we've never been off the fekking road, and we're too old to retrain."  They have made numerous television appearances and radio recordings, released seven CDs, two videos, an autobiography and a songbook, and have also been nominated for several awards – Perrier (once), Olivier (3 nominations) and New York Drama desk (3 nominations).  Earlier this year they won Best Musical Act in the London Cabaret Awards.
Dillie Keane says, "Fed up with the endless recession?  Got any money left after paying your bedroom tax, losing your child benefit and being robbed by a Cypriot Bank?  If so, cheer yourself up at the cheapest and cheeriest show in town! Oh and 30 years…who'd have thought that we'd outlive the VHS? Expect topical new songs hot off the press, plus some outrageous old favourites, as Fascinating Aïda continue to grow old disgracefully! "
http://www.youtube.com/user/FascinatingAida
Download Fascinating Aïda's new single – a must for every divorce party!
https://itunes.apple.com/gb/album/new-me-feat.-liza-pulman-single/id669540770