Do I like Halloween? By George Barnett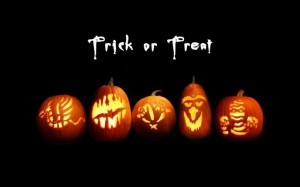 According to Wikipedia – Halloween or Hallowe'en (a contraction of "All Hallows' Evening"), is a yearly celebration observed in a number of countries on 31st October, the eve of the Western Christian feast of All Hallows (or All Saints) and the day initiating the triduum of Hallowmas, the time in the liturgical year dedicated to remembering the dead, including saints (hallows), martyrs, and all the faithful departed believers.
Typical festive Halloween activities include trick-or-treating, attending costume parties, decorating, carving pumpkins into jack-o'-lanterns, lighting bonfires, apple bobbing, visiting haunted attractions, playing pranks, telling scary stories, and watching horror films. Great, but why are there so many sinister people walking the streets demanding I get involved?
Here in the UK, as a kid, I can remember 'mischief night', the night before bonfire night, for doing all our collective naughtiness, which consisted of ringing doorbells and running away. It might have occasionally got out of hand when we might have tipped Mrs Higgins bins over but that was because no one actually liked her. However, that was about as 'mischievous' as we got.
That piece of 'fun' has given way to a bit of Americanisation that I absolutely loathe – Trick or Treat. Last year, I had my keyholes blocked with superglue and one of the tyres on my car punctured. God knows what would have happened if I'd actually been in and had no 'candy' to give out. I hate being forced to take part in this criminal festival. I mean, if I walked up a strangers path, knocked on the door and demanded a fiver or else I would do something horrible to that person or their property, I'm sure the police wouldn't take it as a 'bit of fun'. I see no difference.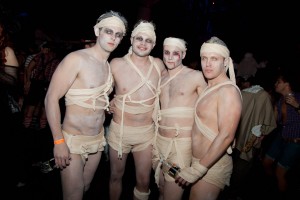 According to all the TV programmes and movies, Halloween is a BIG event… at least in America, and a great deal of time and planning goes into it all. I know that clubs, and especially gay clubs, go bananas over this period as it is another excuse to frock up and be excessive (as if an excuse was needed).
I'm happy for this side of the event to happen in the privacy of people's own home… just keep the kids off the street and off my property. Why don't they organise family parties like we had for the Jubilee – when only those who want to take part do so without the threat of dire consequences if they opted out. 
I blame the parents. Just so 'NO' to the little darlings. Your kids should not be demanding candy with menaces at random households… and another thing… I know who'll get hauled in front of the cops should I answer that constant ringing of my doorbell by appearing in my favourite costume… Porn Star.