Benedict Cumberbatch's Little Favour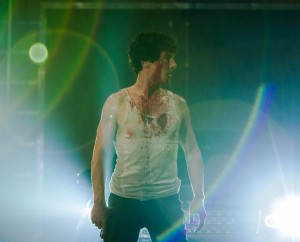 Recently, on Graham Norton's BBC chat show, guest Benedict Cumberbatch had to confess that at that particular moment he had no idea how many projects he was appearing in would be released or when.
As the man 'in demand' he has several stage and movie commitments plus TV programmes already in the pipeline; some finished, some being edited and some still in production, so it is guaranteed that we are going to be seeing a lot more of our favourite Sherlock Holmes (just one of the many characters he has brought so spectacularly to life) over the coming 12 months.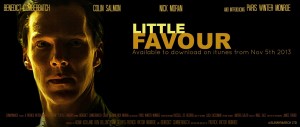 One little gem that is about to become available is an independent film that Benedict and his production company have made called Little Favour. It tells the story of Wallace (Cumberbatch) as he tries to get over the scars of war and start a life away from the military when his old comrade James (Colin Salmon) calls in a favour. Unable to turn down the man who saved his life, Wallace agrees to help James, but soon finds it may be more than just a Little Favour…

Little Favour, a low budget project,  was crowd funded raising £86,240 in twelve days, outstripping the original target of £25,000 allowing the film to grow into something very special.
Cumberbatch commented: 'I'm really proud to be a part of Little Favour. Not only because the results of the work we all put in are fantastic, but mostly because we all came together out of sheer goodwill and generosity for a cause we believe in – namely Patrick Monroe and his second outing as a director and writer. What was truly astonishing was the level of response and expertise and generosity we received from nearly every level of the film industry to make this idea a reality. The title soon became an ironic contrast to the huge favours that were being done in every department and the hours being put in.  But none of that goodwill would've been possible to harness without the incredible response we had from the public. We set the record for the fastest and highest funded film in crowd funding history. However briefly we may wear that crown we're incredibly proud of that fact. It speaks volumes about the faith placed in us and it is my only wish that that faith be justified by what we've done. So here it is. Little Favour.  I hope you are as proud if it and the way it came about as we are. A million thanks for all your massive favours.
 The film will go on to screen in competition in the Best of British Short Film Category at the Leeds International Film Festival on Thursday 21st November 2013 and be available as an exclusive iTunes release on 5th November 2013.