The wonderful world of pjs? by Gordon Hopps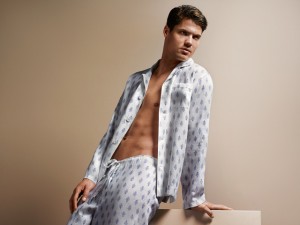 The other day I was searching online for information regarding the question: '…just who wears pyjamas?' (or pajamas in the American spelling) and was astounded at the discussion that was already going on concerning this subject.
One student, who was about to go off to University for the first time, asked if it was "…OK to wear my pyjamas in the halls of residency?"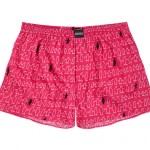 The resulting outcry and general mocking I found a little sad. Mind you, that is also what most of those responding called the guy who posed the question. 'Naked', 'boxers' or 'boxers and t-shirt' were the main acceptable forms of attire most people said they wore to bed and to wear anything other indicated to everyone else that you were a 'nerd'.
I'm not sure why the wearing of pjs should mark you out in such a way but apparently, the perception is, if you do so be prepared to be regarded as a sexless throwback to your granddad's era. Although sleeping naked sounds sexy. YUK. What state are your sheets going to be in after a few sweaty nights or sexual fumblings and, in an emergency, in the dark, will know where your pants are?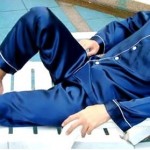 OK, I realise that it's not about laundry (what student actually changes his sheets?) or sensitive smoke alarm situations, but really, I'm of the opinion that a pair of pjs can set you apart from the rest of the herd, especially when in a group environment such as university. A touch of individualism can't be wrong… can it?
I know that children look absolutely adorable in their colourful pyjamas so, why shouldn't I? Whether in or out of pyjamas do you stop being adorable after a certain age?  Anyway, I'm sure no one these days is forced into wearing them, well especially after the age of 12, when I assume peer pressure might lead you to abandon such night-time garments.   
Having said that, there is an undeniable potent line of reasoning: How silly is it to change from one set of clothes in the day, to another, remarkably similar set, at night? You may just as well keep wearing the same thing. As Spock would say "That's illogical"… oh god I am a nerd.
However, my original line of enquiry was to find out what, if anything, all the new designs in pj wear, were having on a pyjama buying public.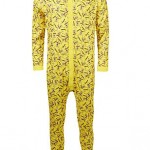 Personally, I love the onesie. Yes, I know, in some quarters, it has had its day, and to begin with they were ridiculously expensive, but now they are cheap and fairly accessible I ask, just who wouldn't want to be wrapped in a Spongebob Squarepants onesie?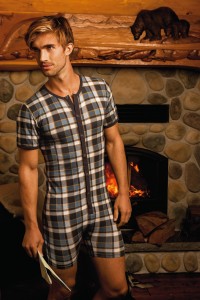 Or, if you think that is way too childish, how about the onesie that Jockey have brought out – stylish, sexy and grown-up. Speaking of Jockey, (www.jockey.co.uk ) they also do stylish new (colourful) boxers, trunks, onesies, twosies, t-shirts in fact… they have this whole area of the underwear/bedwear debate sown up.
I'm not sure if it's an age thing but going to bed doesn't always mean sex. I mean it could do but for me, after a hot bath, climbing into a new (or recently washed) pair of pyjamas and a freshly made bed is a simple luxury I can both afford and enjoy. On an autumnal evening, watching TV, in a warm pair of tartan jammies gives me the feeling of carefree relaxation I remember as a kid.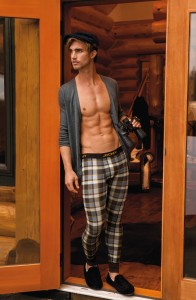 Perhaps that's the reason. Perhaps, all I'm wanting is to regress back to my childhood, or what I perceive my childhood was or should have been like. (Hell, this is getting deeper than I expected). Whatever the reason I love the act of changing out of my daywear and stepping into my nightwear. It would seem I am not alone as more and more people seem to wear their 'lounge pants' or 'pyjama bottoms' around the house for considerable periods of the day. Alas, some people have taken it a step too far and are wearing them out in public areas such as the school run or the supermarket, and I have to admit, the overall look isn't always flattering (in fact there are sites in America designated to spotting this fashion faux pas phenomenon).
However, I want to make this claim – I like pjs, they are comfortable and comforting and, with winter nights not far off, isn't that what we're looking for… something that makes us feel good and cosy?
So, bring me my teddy bear and… anyone for Horlicks?