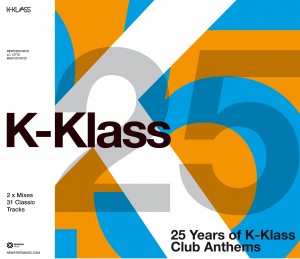 Music K-Klass are responsible for some of the biggest house tracks ever made. Nights out at the legendary Hacienda club in 1988 led to the meeting-of-minds and the beginnings of the K-Klass phenomena spearheading regular performances at the Hacienda.
From there K-Klass became residents for the one of the globe's biggest dance brands, Cream, playing guest slots at the world's most prestigious and largest dance events. In 1990 they unleashed their sound with the release of Rhythm Is A Mystery (No.3 in U.K.Top 40) and the huge Let Me Show You (No.13 in U.K.Top 40).
With countless remixes and productions under their belt K-Klass won the International Dance Awards in 1995 and were nominated for the USA Grammy Awards in the 2002 remix category. When K-Klass are not behind the decks they spend their time in the studio and have worked alongside established artists such: The Pet Shop Boys, Kathy Brown, Bobby Brown, M-People, Level 42, Kylie Minogue, Rozalla, Sunscreem, Frankie Knuckles, Bizzare Inc, Kathy Sledge, New Order, Janet Jackson, Luther Vandross, Lisa Stansfield and Candi Staton plus many, many more.
The 2-disc album features all their classic anthems plus their more modern works . Recent hits included on the album include; Right & Exact on Stealth Records, Bad Boy on Hotfingers, Let The Freak ft. Reza on Muzieek Digital, People Of All Nations on Wazzup, and a remake of their K-Klass 1994 hit What You're Missing and their massive rework of Duke's So In Love With You.
Classic tracks featured on the album include: Rhythm Is A Mystery, Let Me Show You and Klassic K-Klass remixes of Bobby Brown – 2 Can Play That Game, Juliet Roberts – Caught In The Middle, Loni Clark – U, Candi Staton – Whadda You Want, Joe Roberts – Lover, Blaze – I Think Of You and Level 42 – All Over You.
K-Klass are still very much in demand on the production, remix and DJ-ing front, K-Klass are set to make their 25th year in dance music as successful as the previous 24 years!  
25 Years of K-Klass Club Anthems – New State Music
ITUNES EXCLUSIVE RELEASE DATE: 21.09.13