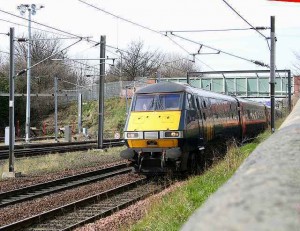 Three weeks ago I was on the train to London and I saw this really fit guy get on so I followed him to where he was sitting and hoped I could find a seat nearby.
I didn't know if he was gay or not, in fact I assumed he was straight, but thankfully I ended up sitting opposite him. He didn't seem all that interested as he was just listening to his music and staring out the window. He looked incredibly hot and as I was checking him out I had a hand surreptitiously resting on my crotch gently caressing my hardening cock.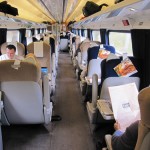 Eventually he noticed me and we started swapping looks.  My actions became even more obvious and I hoped they would leave him in no doubt as to what I was proposing. He checked out my cock and there was a wisp of a smile. Eventually, when I thought the time was right, I got up and went to the toilet and was relieved when he got up and followed me. We queued outside this toilet because the red 'engaged' sign was on but nobody came out. We positioned ourselves in the gap between two carriages and started rubbing up against each other. That felt really hot, more so as there was a constant flow of people passing by. I desperately wanted to go down on him but I was too scared in such a public area… but pressing our dicks together through our jeans and swaying with the train's movements was having a fantastic effect on us both. It didn't take long before I heard him moan, and with a shudder I knew that he'd come. I hadn't but was so pleased he had. With the faintest of smiles and a nod he turned and returned to his seat, put on his headphones and closed his eyes for the rest of the journey. I was left as horny as anything but spent the rest of the time looking at my sleeping sex partner and day-dreaming of all the things I would have liked to have done with him. My pants were a soggy mess by the time we arrived in the capital but I reckoned that my priest would enjoy my next confession.
Michael, Edinburgh  (if you have a confession you'd like to share, please send it to editor@bent.com )
Comments via Facebook
comments