Check in to the historic Chelsea Hotel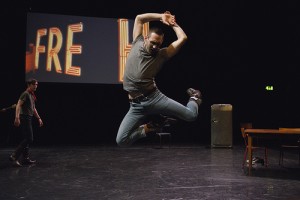 After the success of last year's award winning At Swim Two Boys, Earthfall Dance Company's latest production, Chelsea Hotel takes you across the water to New York City and this infamous building, the bohemian artist mecca. Chelsea Hotel will tour from 1st October – 5th December 2013.
Over 70 minutes Earthfall reveals the poetry and tragicomic events from the iconic Chelsea Hotel and its place in contemporary culture, performed through dynamic dance, live music and film.  The production blazes a trail from Patti Smith and Robert Mapplethorpe to Dylan Thomas and Tennessee Williams; several stories, true and false, interplay through a voyeuristic discovery of the inhabitant's lives, loves and longings.
Jessica Cohen, co-artistic director commented: "Our production is a crazy mixture of poetic movement, sex, violence, rock and roll, anger, companionship, cowboys and ghosts. It blends truth with lies, reality with fantasy. Projected images layer in narrative, environment and story fragments told directly to camera.  We found an essence of the place and a spirit of those who inhabited it; slowly our 'Chelsea Hotel' emerged as our story."
For tour dates:          www.chelseahotel.org.uk      www.earthfall.org.uk
Comments via Facebook
comments