Bent Fiction – BULL by Les Lea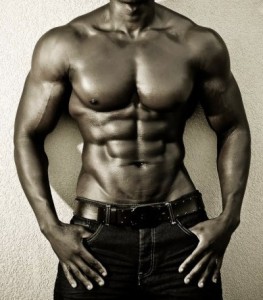 Bull is more than just his nickname. His huge body in the boxing ring overwhelms most of his opponents and his constant scowl scares most of the public. His short, matter-of-fact answer to any question and his menacing stare means he won't win any 'Sports Personality of the Year' awards, not that he cares for such accolades. It's this 'unapproachable' stance that has set him apart in the ring.
Where others have gone for gimmicks or arrogance or a desperate need to be loved, he has always let his steely fists and incredible speed (for such a big guy) do all his talking. His sweaty glistening black body is truly an object to behold. His enormous, beautifully sculptured chest coupled with, taut, pumped and veiny muscles take on a life of their own as they throb with power and energy. Under the ring-lights his tight satin shorts set off his ebony skin and all I can do is marvel at this fantastic specimen of ultra maleness.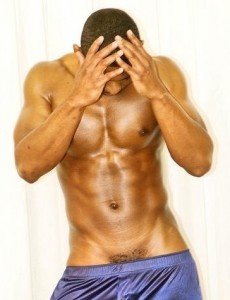 What the public don't know is that Bull is mine. I love the fact that I am invisible to the public but each night this colossus of a man-mountain comes home to me. Bull, or to be exact, Buckley Levine Latimer is the most loving and considerate of individuals… and he loves me.
Yes, I know it's strange. Why does this middle-aged white guy haveBritain's most successful boxer as his lover? I can't explain it I just know from the day we met I knew there was something between us. He entered my life as a mixed-up juvenile, well on his way to getting himself arrested. He'd been pointed towards my boxing club as a last resort by his frustrated parents, and, if you'll pardon the pun, he was an immediate hit. His natural ability shone through even at that early age and he seemed to spend every minute he possessed down at the gym or begging me for extra tuition when I closed up.  I thought I was just a sort of father figure to him but even in his early teens I could see the way things were going. As his skill and achievements in the ring grew I tried to pass him on to other coaches who I hoped would take his talent further but also in the hope that I could rid myself of these strange and illegal feelings. His technique fell apart as others tried to take him onto a more professional level and he blamed me for letting him down, accusing me of being selfish and self-centred and not caring what happened to him.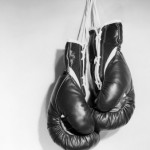 Nothing could have been further from the truth. I'd loved him since he walked through the gym door and when he put on his first pair of shorts, gloves and boots I knew I was hooked on this rangy looking kid. As the years progressed we fell madly and deeply for each other. He was adamant it wasn't a father – son relationship and wanted more… and so did I. As his fame grew I always expected him to find interest elsewhere but, despite every opportunity, he never has. When my hands stroke and caress his phenomenal chest or I let them wonder to play and cajole his spectacular cock he laughs and chuckles like a young child. His body is in fantastic proportion… in every aspect Bull is ALL man but he is never anything but a gentle giant to me. He is constantly horny and from the very start I encouraged him to take the lead. Once he was old enough we had petted pretty heavily and masturbated each other like two school kids enjoying the thrill of each others bodies. Both of us had impressive organs though mine was nowhere near as thick or as rampant as Bull's. On that first occasion when I tried to take his virginity it didn't go well. He said he didn't like it and asked if I would mind turning over. I was a bit apprehensive but did as he suggested, while thinking it was not what I had even slightly imagined might happen. I have to say I was very nervous and my arsehole wasn't that happy about giving up its virginity but eventually, and with a great deal of coercion, perseverance and difficulty I took his hard, youthful cock deep into me.
His thick dick opened me up and even though it initially hurt like hell I hadn't realised just how desperately I wanted to have him inside me… to become just one guy. He spent that first night enjoying this new role and I have to say he was so gentle and responsive to my needs that I took to my new task almost immediately. Every time we have sex he tells me, as if I need to know, that he would never do THAT with his father… only some one he loved as deeply as he loved me.
It's been like that ever since and I've been more than happy to satisfy all that he desired. I retired from being his trainer and slipped into the background of his public persona. He acknowledged my part in his success and hated the idea of hiding the fact we were in love but… I told him he would be crucified by the press if the news got out. We keep two houses, one for me and one for him but we spend every minute we can together. He learned from an early age, well I tried to instil in him from an early age, that people will want to make money out of him, while offering nothing back. It wasn't that I don't want him to have any friends, I just didn't want him to end up with an entourage of hangers-on milking him dry. Before he signed with the promoter he's with now I went through the contract with a fine toothed comb and dumped so many clauses and paragraphs, which I saw as detrimental to Bull, that he now has one hell of an earning capacity. On the day he signed we went back to my old gym. In that empty echoing, sweat and liniment smelling training ring, dressed in only his tight white satin shorts, he shagged me for three hours. When he has a contest or title fight I'm always there as his 'good luck' charm.  I know that to have this 25 year-old, godlike creature as my own seems ridiculous but you will not find me complaining. For 7 years now I've had this gorgeous hunk of a man laid by my side, making love to me and it is the most erotic, beautiful and perfect thing that can happen between to guys… whatever their age.