The Joy of Disco Hits Soho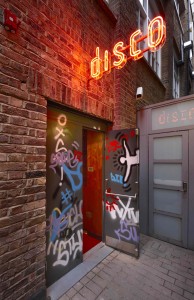 Soho will be dancing to a different beat this summer following the recent launch of Disco, an underground boîte inspired by the disco movement, which started in 1970s Manhattan. Owned and operated by Charlie Gilkes and Duncan Stirling, whose Inception Group venues are well loved for their innovative and unique concepts, Disco is a revival of this important period of nightlife and musical history.
 The nightclub is a celebration of the decades of disco, featuring choreographed routines from singers and dancers, as well as nightly live performances from musicians.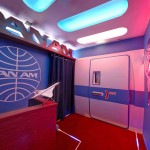 Harking back to the days when air travel was glamorous, sophisticated and thrilling, on arrival guests are greeted at a Pan Am-inspired lounge where air stewardesses issue boarding passes and check personal items into the cloakroom via an automated conveyor belt before guests enter the club through aeroplane doors.
Decked out in an arresting style, Disco showcases a cool and quirky interior, featuring entire walls of retro televisions beaming out music videos and a nostalgic collection of iconic images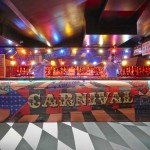 of revelers from the disco era. Other walls are adorned by colorful rollerskates, cassette tapes, nightlife memorabilia, and the bar is even mocked up to resemble a vintage fairground stall. Designed to invoke the glamour of studio 54 and the atmosphere of Paradise Garage, Disco pays tribute to both the past and supports the resurgence of disco in the 21st century.
 The trend towards all things disco is still very much alive today and guests can enjoy current and retro hits from DJs playing exclusively off vinyl. The venue epitomises all of the escapism, freedom and hedonism that defined the era and continue to define modern disco today. Every night there is a countdown from one year to the next at midnight, when visitors can celebrate the start of another year of disco.  Clad in bow ties and braces (and little else), the bar team serve up an inventive range of cocktails, including signature sharing drinks served in oversized glitter balls, a bespoke mug modeled on Michael Jackson complete with afro, and The Donna Summer, a homage to the late, great diva herself.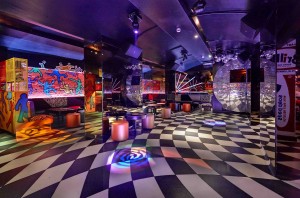 The Inception Group also own and operate Chelsea speakeasy Barts, 80s themed nightclub, Maggie's, the acclaimed Bunga Bunga, an Englishman's Italian, Bar, Pizzeria and Karaoke venue in Battersea, and, Mr Fogg's, a Mayfair based bar  that is modeled on the actual home of Jules Verne's most famous adventurer, Phileas Fogg. Discographer and founder Duncan Stirling says of their new project:
"Both Charlie and I love the style and music of the entire disco era.  We wanted to create a venue that transcends the era, and will be a one stop shop for those that witnessed Disco first time around and for those for whom it will be an entirely new experience."
Disco  13 Kingly Court, London, W1B 5PW        Tel: 020 7299 1222
www.disco-london.com      enquiries@disco-london.com       
Disco-ver more & follow us: @discosoho