Bent Fiction – I'm Lovin' It by Big Mack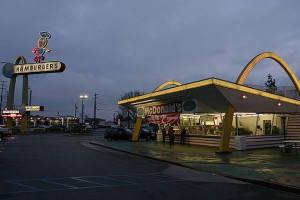 It had been a long night. I'd worked my usual day shift but the boss had asked me if I wanted some overtime, and in these financially stretched times, who doesn't. By the time I clocked off in the morning I was well and truly knackered but as hungry as hell as I hadn't had time to get anything in before I'd started that second shift.
On the drive home I saw the welcoming big yellow 'M' sign lit up and noticed that the place was open for early breakfast so thought I'd treat myself and called in for one of their famous 'breakfast in a bap' and coffee. It was the first time I'd visited the fast-food outlet at such an early hour and the place was surprisingly busy for that time in a morning. There were quite a few other customers and the girl who I thought was about to serve me suddenly disappeared to the Drive Thru section and I was left for a moment tapping my toes and wondering if the wait was really going to be worth it. I didn't have to wait long because a few moments later perhaps the best-looking server I'd ever seen at a fast-food joint greeted me. He was young, cute, smart, while his uniform and jaunty cap made him look more desirable than the food that was on offer… and I was famished. He smiled the most wonderful smile as I placed my order and his clear eyes and long eyelashes made my heart pound in my chest. Hell, I shouldn't be having these feelings; the lad was a good twenty years younger than me but that didn't stop me from appreciating just how unaffected or unaware he was of his good looks. Now, I have to admit to having a fetish for guys in uniform. Yes, even something as cheap as that bloody outfit has an effect, except his fitted him so well he looked horny and sexy in it. Two days earlier I'd had a session with one of the security guards at the local superstore. His snug brown uniform and tight fitting polyester pants hardly concealed his growing hard-on and further more he was as voracious as hell for dick. I'd only asked him where the toilet was and two minutes later, I was getting a very excited thick cock thrust down my eager and very receptive throat. It was a strange and exciting exchange and, as I choked down his dick, I remember thinking how horny the situation made me feel. My blue work pants might have turned him on I suppose, although, the speed and thoroughness of his full throated shag concentrated my thoughts on keeping him satisfied.
Meanwhile, as the sexy young server sorted out my order I was checking him out and lustfully wishing I was 18 again. As the sweet lad placed my breakfast order on the tray and looked over my shoulder to the next waiting customer I didn't really want to vacate my spot as I was enjoying eyeing up such a piece of perfection. When I did move away I located myself so I could watch him work and I loved the ease with which he dealt with his customers. Occasionally he would walk around the front of the counter and clear away the rubbish left on some of the tables. His tight pants fitted perfectly and showed off a pert, and I imagined, perfect unblemished bum. As I finished eating my breakfast, I realized I was hard as hell in my pants and was enjoying the feeling of my engorged cock throbbing against the soft material of my CKs. Occasionally, he glanced up, smiled as our eyes met and I didn't know if he was flirting with me or me with him. Still, I liked what was happening and felt pleased that I'd called in for my breakfast. I knew that the thought of him would fill my sleep once I got home and fell into bed and I was looking forward to having his image in my head to help me with some much-needed hand relief. Once I had finished my meal, a visit to the toilet revealed my sexy server cleaning it up. I smiled, and said something banal about there being no rest for the wicked. He smiled and asked how I knew. It took me all of two seconds to realize what he meant so I pushed him into the cubicle and unzipping my pants said, "How about super-sizing this." His mouth was eager, warm and welcoming and it was not long before I was trying to stifle my orgasmic scream as I filled that beautiful orifice. I asked him if he would like me to do the same for him but he indicated he did not have time but suggested that perhaps on my next visit…
He left that invitation open but I have to say… he got five stars for customer satisfaction.