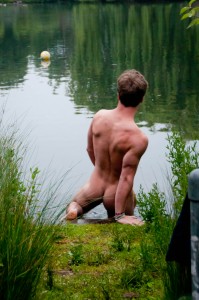 Back in May readers might remember a piece we did on up-and-coming teenage heart-throb Sam Callahan plugging his latest release 'Crazy'. 
Since then the little cutie set his sights on giving back to his many thousands of fans and followers online, on Facebook and You Tube by attempting to raise money in support of the charity the Teenage Cancer Trust by getting sponsored to do some rather 'crazy' things.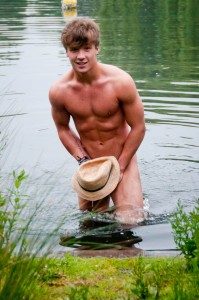 As you can see from this particular photo shoot, our pin-up proved to be more than good to his word as he went skinny dipping but only after Chelmsford Council had banned the stunt.
In fact the decision to cancel was taken following a stern e-mail from officers at the city council that Sam could face police action if he went ahead.
It read: "The council has been made aware that Mr Callahan intends to skinny dip in the pond in Central Park, Chelmsford.  Doing so would be against the by-laws of the use of the park and could also be viewed as a criminal act of exposure by the police.
"The council takes the safeguarding of children and young people very seriously and we must insist that Mr Callahan refrain from any activity that could involve exposing himself to young people."
Still, the boy has been as good as his word and sent out these images for his fans to enjoy even if they were not allowed to witness the stunt in person. Well done Sam, we here at Bent hope you've managed to raise thousands of pounds.                                                                                                                                                                 www.samcallahan.co.uk/