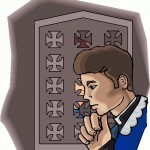 My confession is – I'm hooked on dressing-up.
 It started when I was 11 years old and I was away with my mum and younger sister at a holiday camp on the south coast. They were having an under-14s party and it was supposed to be fancy dress. We hadn't taken any clothes for such an event but my mum, in one of her sillier moments, thought it would be fun for me to wear my sister's clothes, and she to wear mine.
I didn't want to but my mum thought it would be great fun and became quite insistent that if we didn't join in with the 'fun' we couldn't go. To be honest my 8 year-old sister didn't look too ridiculous dressed in my clothes, and with a few little touches she could have passed as an extra from a 'Dennis the Menace' movie. I, on the other hand, looked weird and when I look back I'm not sure what my mum was thinking. My sister's clothes were way too small and tight for me and, although I didn't know the term in those days, I ended up looking like a little hooker. Again, not sure what was going through my mum's mind but she put make-up on me and I even looked the part. She even made me take off my underpants because they could be seen under this incredibly short dress and found a pair of her own silk panties for me to wear. Looking in the mirror I was reluctant about going to the party but my mum insisted and I nervously walked, holding my mum's and sister's hands to the venue.
With each stride my short dress exposed my knickers and I was almost in tears by the time we entered the room. The place was packed and there were some incredible costumes and oddly enough, I began to feel a lot more at ease. In fact, the girls seemed to love me looking the way I did and the boys… few noticed I was a boy at all. Neither my sister or I won the prize for best costume, and I'm sure I heard a few other parents 'tutting' at my mum for letting me attend dressed as a child prostitute. She just thought we both looked so funny and gave it no more thought.
For me that was the start. Throughout the rest of my youth mum was always supportive of my dressing-up bug. So much so that we would go to any and all fancy dress parties or charity events. She made me some great costumes; a pirate, Prince Charming and a host of Super Heroes, although oddly enough she liked me best clothed as a girl. On more than one occasion I even found myself bringing in the New Year dressed as a baby – naked apart from a nappy, a bonnet and a sash declaring the new date. I loved playing all these parts, it was like being in a film or a character on TV and as I've gotten older I've found that I like to dress up even more… and even kinkier… when I get the chance.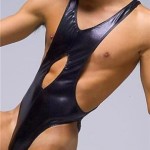 Recently I slipped an anonymous note into the bosses 'suggestion box' that perhaps, once a month we should have a dressing-up Friday, with prizes for the best costume (at the company's expense). We all dressed pretty boringly in the office and my suggestion explained that if we all paid a fee for the privilege, the money raised would then go to a charity. In my suggestion I also mentioned it might be fun and… might even be a good 'team-building' exercise. To my surprise, pleasure and absolute guilt, he took the idea (and the credit) and I now get to wear some outlandish and often 'pervy' outfits to work… well once a month at least. If it wasn't for being able to at least pretend I was doing it for charity I would never dare to wear such stuff in public. I think some at the office can't decide if I'm a pervert or just plain cookie and 'out there' but I've noticed a few more than just sly looks at my more outrageous outfits.
If you have a confession you'd like to share, send it to: editor@bent.com