Will Young to tour in Cabaret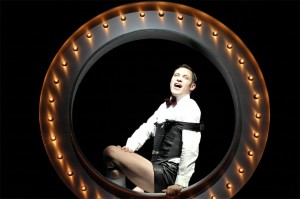 Direct from his award nominated performance as Emcee, internationally celebrated singer/songwriter Will Young reprises his role in Rufus Norris' acclaimed production of Cabaret as it embarks on a national tour.
Ever since winning the inaugural series of Pop Idol in 2002, Will Young has been one of the UK's most popular and successful music artists and holds the record for the fastest selling debut single in British chart history. Will has also enjoyed a successful acting career which saw him appear alongside Dame Judi Dench in the film Mrs Henderson Presents, and it is the combination of these talents which has led him to star in Cabaret.
Since its Broadway premiere in 1966 and the renowned movie version with Liza Minnelli and Joel Grey, Cabaret has won a staggering number of stage and screen awards including 8 Oscars, 7 BAFTAs and 13 Tonys.
Cabaret features show-stopping choreography, dazzling costumes and some of the most iconic songs in musical theatre including 'Money Makes the World Go Round', 'Two Ladies' 'Maybe This Time' and of course 'Cabaret'. The production turns Weimar Berlin of 1931 into a sassy, sizzling haven of decadence. And at its dark heart are the notorious Emcee and sassy Sally Bowles, who perform nightly at the infamous Kit Kat Klub.
CABARET – 2013 UK TOUR DATES
28 – 31 August, New Wimbledon Theatre, Wimbledon             
2 – 7 September, Empire Theatre, Liverpool                     
9 – 14 September, Opera House, Manchester                     
17 – 21 September, Hippodrome Theatre, Bristol                     
23 – 28 September, Alhambra Theatre, Bradford                     
1 – 5 October, Congress Theatre, Eastbourne                           
15 – 19 October, Opera House, Blackpool                         
21 – 26 October, King's Theatre, Edinburgh                   
29 October – 2 November, Gaiety Theatre, Dublin               
5 – 9 November, New Theatre, Oxford                         
12 – 16 November, Assembly Hall Theatre, Tunbridge Wells                 
18 – 23 November, New Theatre, Hull                   
26 – 30 November, Grand Theatre, Wolverhampton               
4 – 8 December, Brighton Centre, Brighton 
www.kenwright.com                              www.facebook.com/CabaretMusical