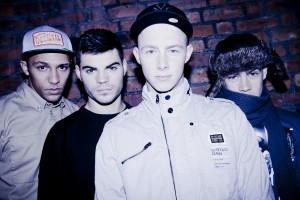 The mastermind behind Britain's biggest and best boy band has done it again. Nigel Martin-Smith who founded Take That over two decades ago has discovered four rare young talents with a hard-hitting message to convey to kids about crime. Meet The Mend; lead singer Craig Worsley, Jayme Kontzle, Dean Kelly and Kris Evans.
The band now head out on their first headline tour dates in July this summer, taking in shows at the major UK cities of Birmingham, London and Manchester.
For a bunch of lads rounded up from auditions at inner city schools and estate community groups, they've had a whirlwind twelve months as finalists on Britain's Got Talent, before supporting girl group Little Mix earlier this year and releasing debut single Where Were You?
Watch the 'Where Were You?' video here: www.youtube.com/the mend
"You know, we're just normal lads" says member Jayme Kontzle "We're not rough and we're not angels either. We've all had a bit of myther, but we've found our way out of it because that way of life is not the way to go if you want to achieve anything. We feel privileged to be given this opportunity to do what we love doing most. Singing and writing is what it's about."
Out to fix "Broken Britain" the band are four individuals who, unlike most male vocal groups, write all their own material, with denouncements of knife crime and anti-social behaviour featuring heavily in their profound lyrics. Catch them at the following headline dates this year before they start selling out much bigger venues; as the lyrics to one of their songs suggests, they're on their way From The Bottom To The Top.
'The Mend' UK Tour Dates:
July 11 Birmingham Institute
July 12 London Borderline
July 13 Manchester Club Academy
http://www.themend.uk.com