The Dancer – Pumping it up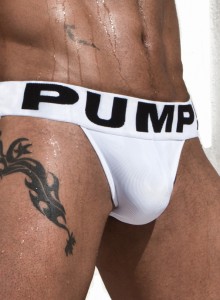 I'd seen him dancing on the podium at my local club before. I was never sure if he was spaced out or not but he seemed to be able to throw his lithe body around that tiny stage the entire night.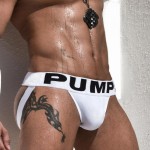 Tonight, it was slightly different as all the dancers were being sponsored by an underwear company. PUMP had just launched their latest range and had taken over the club to help promote their new colourful campaign. He wore the sexiest and slinkiest of briefs as he bounced around, whilst sweat just flowed in streams down his slim but well developed frame. His sexy, PUMP jock almost transparent from the moisture collected in the material as he energetically gyrated in that throbbing light-cocoon he seemed to be confined in. Beams of flashing light pin-pointed other dancers spaced around the club, each looking stunning in their colourful and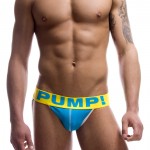 distinctive briefs… but, all eyes were on him.  When those beams tracked across the crowd and blazed onto the undoubted star performer everyone was totally engrossed in his spinning, flexing, rhythmic dance. He looked just beautiful… I mean, really beautiful… not a term I would normally use about another guy but on this occasion I can't think of a better description. Of course I was just one of a hundred or so other guys who were besotted by what they saw. That sweaty, smooth body sensuously swirling, dipping, clapping and spinning in time to the pulsating beat that reverberated through everyone's body was just mesmerising. His unbelievably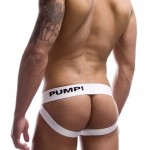 cute bum revealed for all to admire was just inches away from my face as I struggled to get ever nearer to this vision, this beautiful dancer.
I bet PUMP got many new fans that night… but I got the guy in those pants.
Get you PUMP at: pump