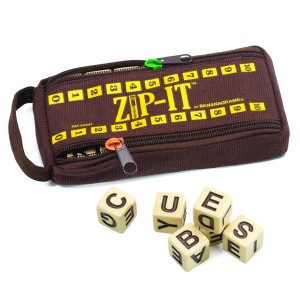 Banish plane and train boredom this summer – compact, portable and ridiculously competitive, ZIP-IT is a two-player crossword race that can be played anytime, anywhere in as little as 20 seconds.
From the creators of global word-game phenomenon, Bananagrams, ZIP-IT is the must-have travel accessory this year, whether you're travelling by road, rail or air.
ZIP-IT features 24 high-quality letter cubes packaged in a unique retro-style cloth pouch with scoring zippers. One round takes as little as twenty seconds, meaning it's perfect for journeys of any length. Plus the ability to play compactly on an airplane or train tray-table makes ZIP-IT the ultimate travel game for children and adults alike – everything you need is in the bag!
To play, each person takes 12 cubes and races to form his/her own crossword grid using any side of the cubes. The first player to use all his/her own cubes calls "ZIP!" and scores a point by moving his/her own zipper up the pouch. The first person to score 10 points shouts "ZIP-IT!" and wins the game.
ZIP-IT costs £14.99 and is available to buy from all good book and toy stores on the High Street or online from shop.winningmoves.co.uk