Film Review – I Can Smell Baby Oil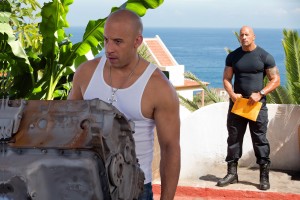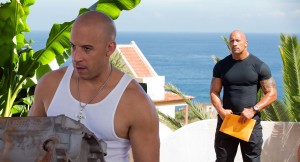 Review by Chris Amos
Fast and Furious 6 (12a)
Director: Justin Lin
Stars: Vin Diesel, Paul Walker, Dwayne Johnson, Jordana Brewster, Michelle Rodriguez, Tyrese Gibson, Luke Evans, Ludacris
Opens 17th May:
3 Stars ****
I love these films. I know, I know… really they should be straight to video but the testosterone packed Fast and Furious series has transcended B grade status and become a worldwide box office phenomenon.
The reason is pretty simple, they have wide appeal and cross nationalities. Studios bosses have seen how well these films do and now every blockbuster movie has an Asian movie star and tomboy female character thanks to Fast and Furious movies. Globally the series has amassed over a billion pounds, with the last one raking in £400 million alone. Producers have already given F&F 7 a July 2014 release date and there is a brilliant teaser at the end of this one which will make sure you are back for more but I don't want to give away the spoiler here.
So what do we have here… all the series favourites are backed working together to stop the evil Owen Shaw (Brit star Luke Evans) running off with a computer chip worth billions. Hobbs (Dwayne Johnson) is hugemongous and shiny (insert oil joke) he enlists Dominic Toretto (Vin Diesel) and his team to bring down former Special Ops soldier Shaw, leader of a unit specializing in vehicular warfare.



Most of the action takes place in London, indeed I spent much of the film poking my hubby pointing out landmarks (Battersea Power Station, Wembley Stadium, Piccadilly Circus). Quite rightly the filmmakers even take the liberty at the end of the film to warn viewers that all the racing stunts are done by pros and not to drive recklessly ourselves. I doubt I could manage a doughnut in my automatic anyway!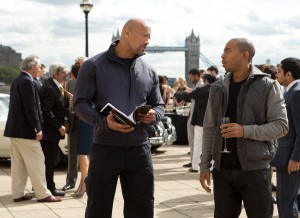 It doesn't really matter what the plot is because it really doesn't matter, all we are here to see are fast cars and incredible driving sequences, hot guys and once again F&F delivers. Paul Walker, Vin Diesel, Luke Evans, Dwayne Johnson, Tyrese Gibson – there is someone for everyone. Even lesbians are catered for with Michelle Rodriguez giving some grunt. Oh yeah, watch out for a cameo from Rita Ora. Shame she didn't get to sing.
You could really wait for this on DVD or download but to be fair the awesome action sequences are best seen on a big screen with a big bucket of popcorn.
Trailer: youtu.be/C_puVuHoR6o